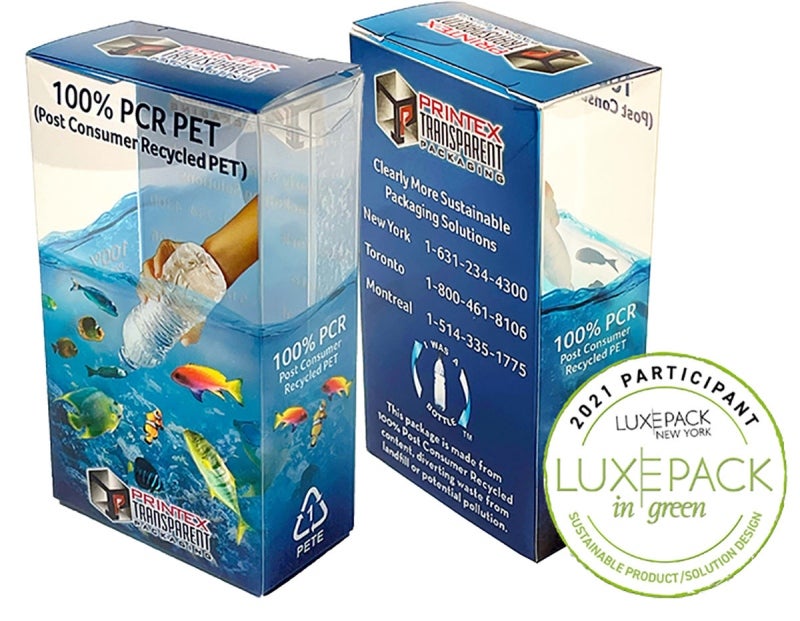 North American company Printex Transparent Packaging (PTP) has introduced 100% post-consumer recycled content (PCR) polyethylene terephthalate (PET) clear boxes.
Dubbed as Eco-PET 100, the sustainable material will complement the company's existing PCR offering including ECO-PET 50 and ECO-PET 25.
The company has collaborated with a domestic rigid plastic film supplier to develop the material.
The material is made from PET water and beverage bottles that are collected curbside by local municipalities in North America, disinfecting and grinding them into flakes.
The flakes are purchased by the material supplier and extruded into 100% PCR clear sheets.
These sheets are bought by PTP and then converted into clear PET cartons.
Eco-PET 100 can be recycled repeatedly and serves as a suitable replacement for virgin PET.
Prior to Eco-PET 100, PET sheet and film producers in North American offered box grade packaging with up to 25% and 50% PCR plastic.
PTP in a statement said: "Eco-PET 100 can help your company meet its sustainability goals for 2025 and onwards! PTP is committed to supporting sustainability efforts where we live.
"Producing the 100% PCR PET here in North America uses and cleans up our own recycled plastic.
"Printex Transparent Packaging believes that a true circular economy should include reducing carbon emissions by using domestic waste. Importing material does not make sense if you are trying to create a true loop."
With the new development, PTP will now be able to offer two additional ways for customers to move to sustainable packaging including Post-Consumer Recycled PET and Smart Design for Recycling.