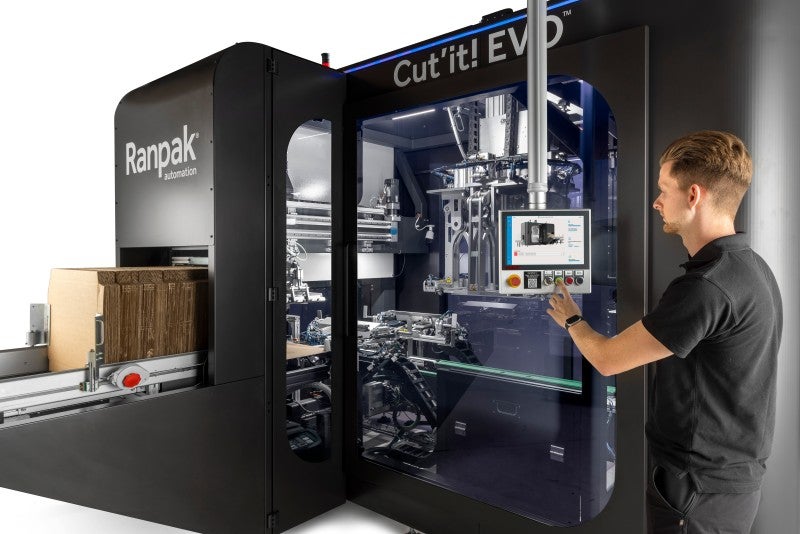 US-based paper packaging company Ranpak has announced the global launch of its automated packaging solution, Cut'it! EVO.
The launch of the automated, in-line solution comes after it was introduced in the European market.
Ranpak said that the machine scales up packaging output, reduces operating costs and enhances sustainability for customers' operations.
The new solution also reduces temporary labour and saves an average of 25% of dimensional volume to be shipped.
It can be integrated as part of a typical end-of-line setup in a packing operation.
After determining the highest filling point of a carton, Cut'it! EVO removes excess cardboard and folds it to cut down the height.
It then automatically applies a glued lid to the box to prepare it for palletising and shipping.
Ranpak said the machine can process boxes ranging from 150x230mm to 450x650mm in size.
It has a 12-inch touchscreen and industrial Internet of Things (IIoT) capabilities designed to offer management insights and quick response times for remote technology support.
Ranpak chairman and CEO Omar Asali said: "The global launch of Ranpak's next generation Cut'it! EVO solution reflects our continued focus on creating technologically-advanced, end-of-line innovations that improve supply chain efficiency and sustainability for our customers.
"Our latest automation innovation enables customers to fit more packages onto a pallet, save room in shipping, and reduce their carbon footprint.
"We are excited to launch Cut'it! EVO globally to help our customers improve productivity and make logistics easier while conserving our environment and resources."
The launch of Cut'it! EVO comes a few months after Ranpak introduced Flap'it!, a machine designed to automate the packing of small products.
The Flap'it! solution can pack up to 540 packages an hour and features labelling solutions to allow the in-line application of shipping labels.