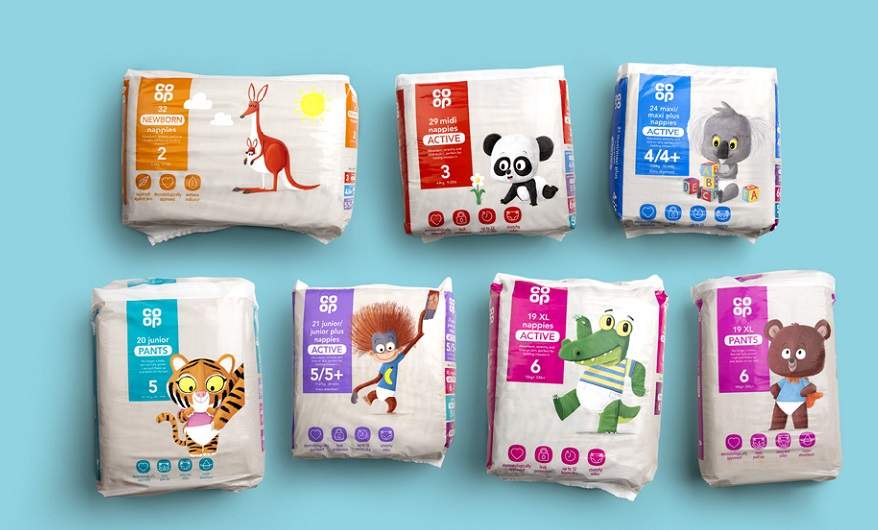 British product packaging, food branding and food package design agency Robot Food has handled the rebrand for supermarket chain Co-op's baby care range.
Co-op needed a product that provided customers with a credible own-label alternative that would boost category sales and engage with shoppers.
As a result, Leeds-based Robot Food focused its strategy on life as a parent and tried to connect the baby care products with the joys of parenthood.
The resulting line of nappies and pants has less written content on it but instead features a stripped back progression of target age groups to simplify pack messages without creating confusion.
The design agency's website says: "Taking a closer look at the baby care category, Robot Food found that it was out of touch and failing to cater to a new type of parent.
"Research showed that the majority of new parents were millennials, yet most brands hadn't moved on much from when said parents were in nappies themselves."
Robot Food chose to substitute the more traditional shots of smiling babies with animal drawings.
Brooke Fletcher, packaging design manager at Co-op, said: "As well as helping us raise the bar for the entire category, Robot Food's work is also raising plenty of smiles. Playful, clever, effective – the range is absolutely spot-on for what we wanted to achieve.
"We now have a strong, cohesive, beautiful baby-care range designed for a new generation of parents that's easy to navigate, and encourages consumers to consider a wider Co-op shop. We're looking forward to seeing what Robot Food does next."