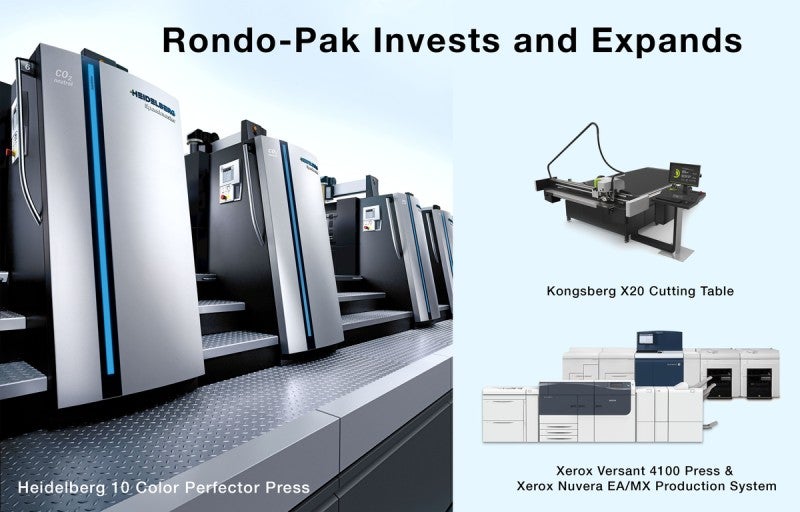 Global print and packaging solutions provider Rondo-Pak has invested in new equipment for its primary facilities to enhance capabilities and expand capacity.
Rondo-Pak specialises in providing folding cartons and printed components for various industries. Its primary facilities are in Camden, New Jersey, and San Juan, Puerto Rico.
The company has purchased a Heidelberg Ten Colour Offset Press, a Xerox Versant 4100 Press, a Xerox Nuvera EA/MX Production System and a Kongsberg X20 Cutting Table.
These acquisitions, part of a $6.5m equipment investment by Rondo-Pak over the past six months, will allow the company to meet increasing demand for specialised packaging driven by the Covid-19 pandemic.
Rondo-Pak president and chief operations officer Bob Reilley said: "At Rondo-Pak, continuous improvement is our primary focus so that we can assuredly offer the capabilities and resources necessary to meet the needs of our global clients.
"These equipment investments will enable us to expand capacity in key areas, expedite delivery and reduce operating expenses, further demonstrating our unwavering commitment to our growing customer base."
The Heidelberg Ten Colour Offset Press can print 18,000 sheets an hour in straight printing or perfecting mode.
The machine, which uses artificial intelligence, is also capable of continuous process optimisation.
The system is due to be installed in the second quarter of this year.
The Xerox Versant 4100 Press is a virtually touch-free quality control machine designed to print 100 pages a minute.
The Xerox Nuvera EA/MX Production System can integrate variable images and data, while the Kongsberg X20 Cutting Table is designed to enhance the entire structural design process and rapidly create structural samples.
The company began installing the equipment in the first quarter of the year.
A joint venture with Körber Pharma, Rondo-Pak also operates facilities in Allschwil, Switzerland, and Ejpovice, Czech Republic.