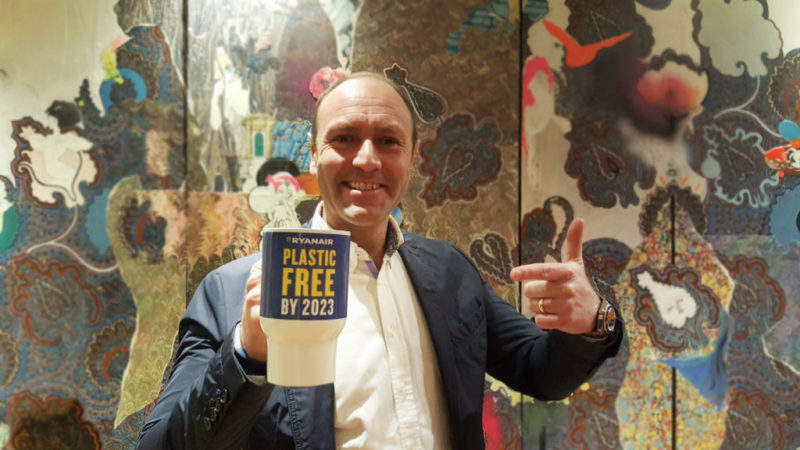 Irish low-cost airline Ryanair has pledged to stop using non-recyclable plastics on its aircraft and in its head offices and bases by 2023.
In a statement on Wednesday, the company pledged to ditch all its plastic packaging and switch to biodegradable cups, wooden cutlery and paper packaging.
The company unveiled the plan in an attempt to tackle plastic waste after fears over its effect on the environment have grown dramatically.  The International Air Transport Association (IATA) recently revealed that airline passengers were responsible for throwing away over 5 million tonnes of waste in 2016, a number that was predicted to double in the 15 years if no action is taken.
Chief marketing officer, Kenny Jacobs, said Ryanair's environmental plan 'includes our commitment to eliminate all non-recyclable plastics from our operations over the next five years'.
He claimed that customers will be able to bring their own cups on board, adding: "It's not just inflight food and drink. We're looking at the plastic parts within the aircraft and what's non-recyclable and how do we work with the original equipment manufacturers to move to more recyclable plastics within the aircraft and the operation."
However, Jacobs admitted that the war on plastics is yet to be won: "There will always be some kind of plastics … How far we get in terms of the 100% removal of non-recyclable plastics we will see over the coming five years."
He also said that Ryanair is already is the greenest airline since 96% of its seats are now filled on its fuel-efficient fleet of 737s meaning it has a low rate of carbon emissions per passenger.
Yet despite its noble intentions, the move has sparked some controversies, which are mainly linked with Ryanair's CEO Michael O'Leary, who previously hit out at environmentalists and called them 'luddites marching us back to the 18th century'.
In typical headline-grabbing style, O'Leary also suggested shooting at environmentalists and repeatedly denied that climate change is driven by carbon emissions, for which aviation is largely responsible. The latest announcement has left commentators wondering whether he had a change of heart or simply enjoys contradicting himself.