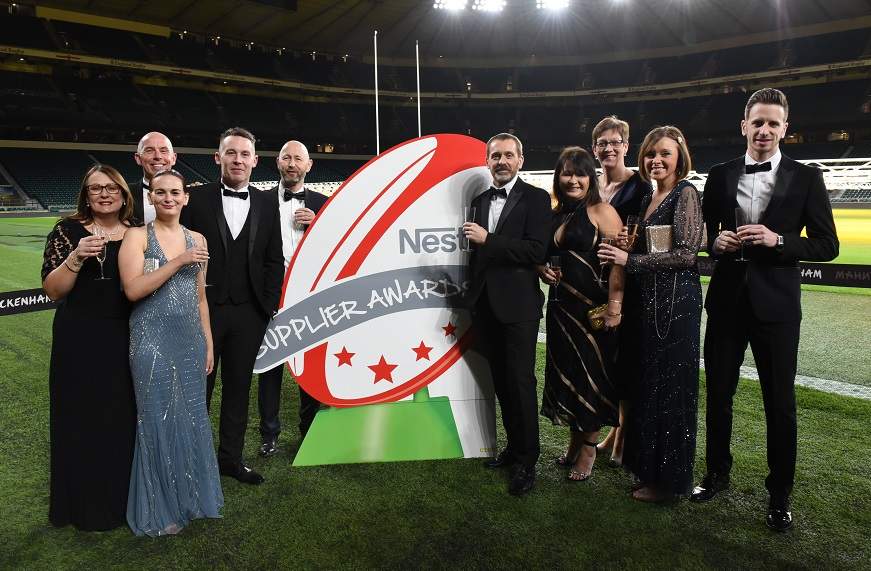 Saica Pack, a European producer of recycled paper for corrugated cardboard, has pocketed two wins at the Nestlé UK and Ireland Supplier Awards.
The event that took place at the Twickenham Rugby Stadium in London last week celebrated and awarded Nestlé's suppliers and their involvement in progressing packaging technology.
David Wilbraham, sales, commercial and marketing director Saica Pack, said: "We are delighted to have been recognised once again by Nestlé for our work. We pride ourselves on a productive partnership which revolves primarily around intelligent packaging that will contribute to Nestlé vision of sending zero waste to landfill by 2020."
Two members of Saica's team, Paul Gartland and Jackie Moore, earned individual recognition in the 'Above and Beyond' and 'Customer Service' categories for their approach to sustainable packaging production and their contribution to the Nestlé's relationship with its suppliers.
Gartland said he was 'shocked but pleased' with the win, and added: "I have worked with Nestlé across many projects, delivering upon developing high quality packaging products. The awards were a really fun night and I'm very grateful to be recognised."
Moore, who works within the company' sales division, received an award for collaborating with Nestlé's procurement team. She said: "It's amazing to have been acknowledged and appreciated by Nestlé. It was a humbling experience to accept the award."
During the night, the food and drinks giant also awarded European cardboard packaging provider Smurfit Kappa for its collaboration to optimise Nestlé's supply chain and packaging. The two companies jointly focused on Nestlé's cereal portfolio, for which Smurfit Kappa identified cost reductions and how to minimise wastage. Nestlé honoured Smurfit Kappa for changing its packaging materials, streamlining logistics and increasing the efficiency of the goods receipt processing.
Clive Bowers, Smurfit Kappa' chief executive officer, said: "Nestlé is a valued customer so we are delighted to get this recognition.
"The award is another example of how working closely together and truly understanding all aspects of a customer's business can lead to a rewarding partnership."