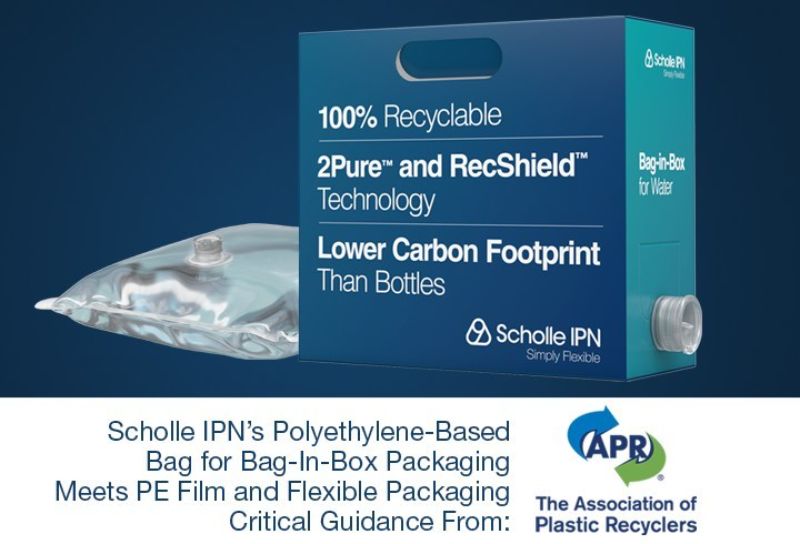 US-based packaging company Scholle IPN has launched a flexible, fully recyclable bag-in-box (BIB) packaging for water.
The package has cleared the Association of Plastic Recyclers' (APR) Critical Guidance Protocol for PE Film and Flexible Packaging (FPE-CG-01).
Tested by Plastics Forming Enterprises (PFE), the packaging features a recyclable, fully polyethylene structure, including a bag film, spout and dispensing tap.
It can be produced in sizes from 2l to 23l for retail or home-office delivery markets.
The flexible BIB format reduces plastic use by up to 80% for each litre of water, and greenhouse gas emission by up to 63% in production, compared to traditional water bottles.
PFE tested a bag consisting of two layers of film and a polyethylene closure.
The outer layer is made of Scholle IPN's RecShield, while the inner layer consists of Scholle IPN's proprietary film technology, known as 2Pure, which protects the taste of the packaged water.
Scholle IPN film development manager Teresa Bernal-Lara said: "A new film technology cannot simply be put out in the world and touted as recyclable, but must go through testing to be recognised as such.
"The testing performed by PFE compared an all-polyethylene film and closure to Scholle IPN's innovative RecShield and 2Pure option, along with a polyethylene spout and tap.
"Scholle IPN's water packaging performed beyond the minimum threshold for compliance set forth in APR's Critical Guidance Protocol for PE Film and Flexible Packaging (FPE-CG-01). We have received a letter of recognition from APR for this achievement."
Last month, Scholle IPN acquired Spanish packaging company Bossar.
Bossar supplies flexible horizontal form-fill-seal equipment for manufacturing flexible packaging products, including spouted pouches, zippered pouches and sachets.