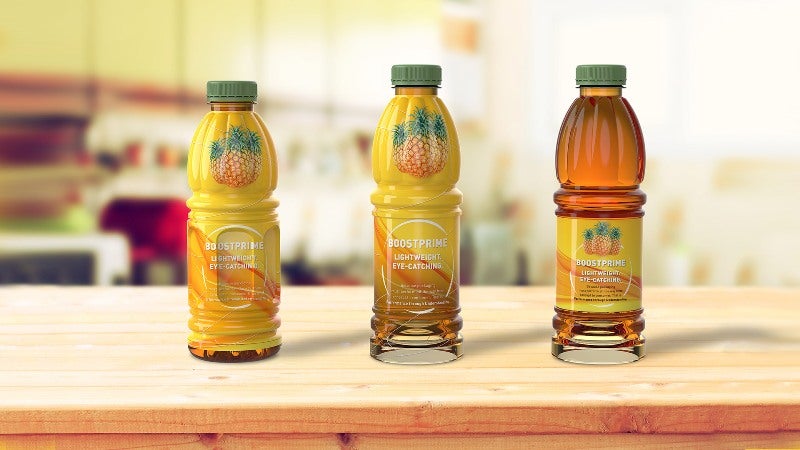 Italy-based packaging equipment maker Sidel has launched BoostPRIME, a new patented PET packaging solution for hot-filled beverages.
This solution is aimed at enabling customers to tap opportunities through product premiumisation and revenue generation while not compromising on packaging performance.
This solution is aimed at the single-serve market of juice, nectar, soft drink, isotonics, and tea (JNSDIT) category.
These beverages can be filled in PET bottles of up to 1.2l at a temperature of 85°C-88°C.
This solution eliminates restrictive vacuum panels or gas addition into PET bottles. These are generally required for containers to resist hot-filling temperatures.
An active base inversion method helps to achieve the bottle's final shape and leaves minimal impact on the layout of the manufacturing line. One of the key features of this solution is that the packaging design needs a particular base geometry and specifications.
During the blowing process, the Base OverStroke System (BOSS) enables mechanical forming of the bottle's base. The inverter leads to the base inversion, a step that occurs after filling and capping, tilting and cooling, but before labelling. It balances negative pressure caused due to the cooling down of the beverage in the bottle from 85°C to ambient temperature.
"These beverages can be filled in PET bottles of up to 1.2l at a temperature of 85°C-88°C."
As the technical constraints of the bottle vacuum are removed, there is freedom in shaping a bottle to create premium or even distinctive PET bottles. It is possible to achieve a uniform look for hot and aseptically filled bottles, which ultimately helps in creating a consistent brand image for customers.
Due to an inner bottle pressure during label application, the labelling quality for roll-fed labels and sleeve labels is vastly improved. Furthermore, as producers can shift from a sleeve to a roll-fed label, producers can save on the label material.
The BoostPRIME packaging solution also cuts down the consumption of PET resin. It can reduce the current heat-resistant (HR) bottle weight by up to 30% as against the usual HR PET bottles.
The hot-filled drinks bottles can be produced by using several production configurations such as off-line and in-line, existing and new Sidel blowing and filling equipment, stand-alone Sidel blower and Sidel integrated blow-fill-cap Comb.
All of these lines configured for the new solution can also generate standard heat-resistant bottles with or without panels.
Sidel's key beverage customer in Mexico has validated this new packaging solution and has also started industrial production early this year. With almost 50 SKUs in production, this customer is claimed to have achieved bottle weight savings of up to 32%.