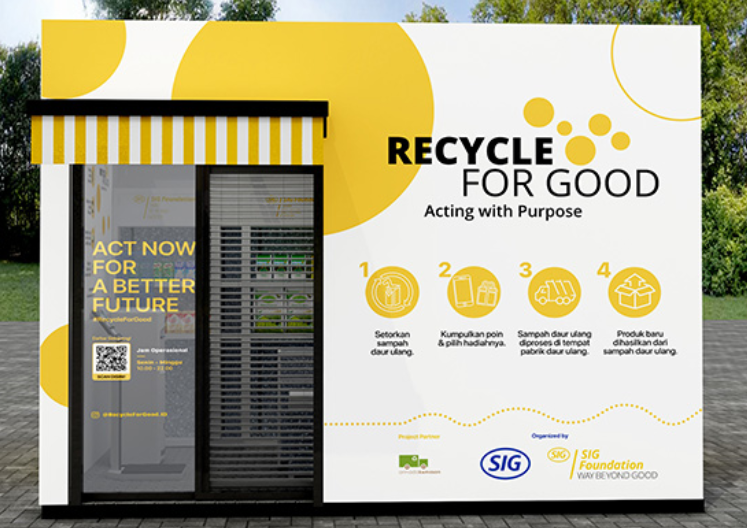 Indonesia is the second-biggest contributor of plastic waste in the world, producing more than five million tons of plastic waste per year with three million tons disposed of in water around the country.
With the Recycle for Good program, SIG and the SIG Way Beyond Good Foundation want to encourage the public to drop off recyclable waste such as beverage cartons, glass, plastic or cooking oil at a collection point and thus return it to the cycle.
In return, they will receive food vouchers or coupons for other goods and services that they can exchange at Recycle for Good partners. The materials are sorted on-site and recycled by a recycling partner.
Holger Dickers, executive director of the SIG Way Beyond Good Foundation, said: "Together with its partners, the foundation's purpose is to identify, drive and promote activities and projects that strengthen civil society and create positive impacts for the environment. To do so, people need to start taking small steps to lead a more environmentally friendly lifestyle."
On 3 March, Indonesia became the first country in South East Asia to adopt the programme with a Recycle for Good drop point at Cibubur Junction in East Jakarta. Later, the programme will be replicated.
"We are very happy to launch the Recycle for Good programme in South East Asia, starting with Indonesia," added Angela Lu, president and general manager of Asia Pacific-South at SIG. "Indonesia is one of the countries in the region that has taken action to address environmental issues and SIG is also taking part through Recycle for Good."
Noer Wellington, SIG's head of the market for Indonesia, Malaysia, Philippines and Vietnam, concludes: "This innovative model to promote recycling not only brings environmental benefits but also socioeconomic advantages by offering people in low-income communities an opportunity to improve their quality of life by saving money on essentials or learning skills to open the door to new job opportunities."