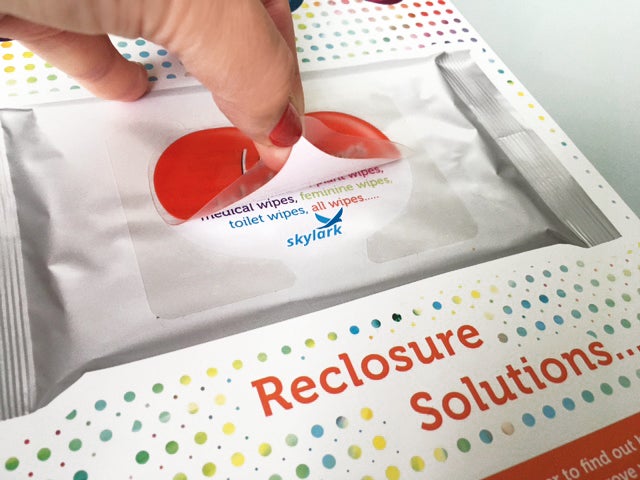 Multinational joint venture (JV) company SKYLARK has launched OPM's Thicker Label Closure (TLC) label in the North American wet wipe packaging market.
TLC was introduced at the World of Wipes (WOW) event currently being held in Chicago, Illinois.
The label is designed to address issues faced with existing wet wipe packaging, such as products drying out quickly after the lid is opened.
In addition to solving this concern, the solution also aims to improve sustainability by being easier to transport and using fewer materials in production.
The SKYLARK JV was formed by label and flexible packaging manufacturer OPM Group together with Syracuse Label & Surround Printing and Macaran Printed Products, two US-based companies that were recently merged.
Macaran Printed Products is an employee-owned company supplying label and packaging solutions for the beverage, health and beauty sectors.
Syracuse Label & Surround Printing is one of the largest independent label converters in the northeastern US.
The intercontinental JV will manufacture and sell OPM's patented TLC label in North America.
In a statement, OPM said: "It's an exciting next step in our journey and is set to turbocharge the growth of all SKYLARK partners – and the growth of our customers.
"TLC labels give brand owners and converters a low-cost, high-performance alternative to rigid plastic lids for their wet wipe packaging.
"TLC is a huge leap forward for wet wipe and hygiene packaging design and makes rigid lids obsolete.
"Our new colleagues from New York saw its potential, so we decided to make TLC the foundation of this exciting new partnership."
SKYLARK has purchased a Nilpeter FA22UV flexo press, which will be installed at OPM's facility in Syracuse, New York.
OPM also plans to install a 12-colour, 22in FA line Nilpeter machine at its plant in Leeds, UK, next month.