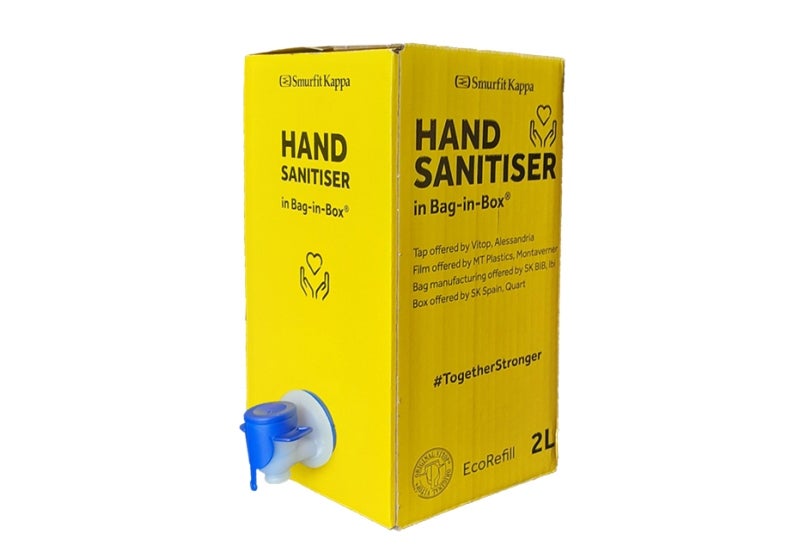 Corrugated packaging company Smurfit Kappa has launched a new Bag-in-Box packaging suitable for hand sanitiser for end consumers.
Obtainable in different sizes from 1.5l to 20l, the flexible packaging can also be used as a refill solution.
Smurfit Kapp's Bag-in-Box features high-performance oxygen barrier films to prevent air and light from entering and impacting the quality and properties of the products.
The packaging is fitted with the blue Vitop tap and a reinforced gland. The tap is particularly designed for detergents.
Meanwhile, testing for compatibility is still being conducted by the company with a broad range of hand sanitiser formulae.
Smurfit Kappa Bag-in-Box CEO Thierry Minaud said: "We are extremely proud to have gathered our expertise and means in such a short period of time to successfully answer today's urgent need for hand sanitiser.
"This demonstrates, once again, the strength and determination of our company to constantly improve its products and to identify new markets that could benefit from our packaging solutions and technology."
Additionally, the packaging lowers weight and use of plastic. The company's 5l Bag-in-Box pack has 54% fewer plastic content compared to a 5l PET bottle.
Smurfit Kappa is also considering developing its packaging solutions for other non-food markets.
The company launched the new QuickConnect Vitop tap for use on soft drink and wine dispensers in March this year.
Last month, Smurfit Kappa started operating its new recovery boiler at Nettingsdorf paper mill in Austria, which is part of its €134m investment plan in Future Energy Plant project.