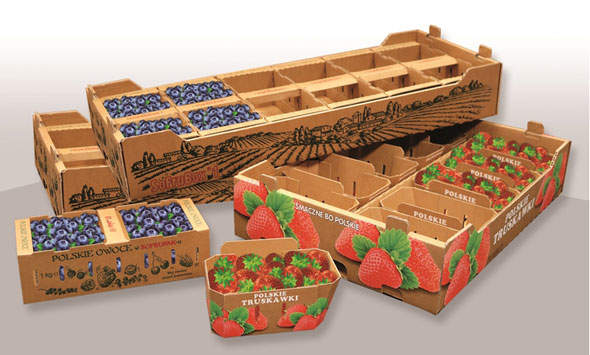 Paper-based packaging solutions provider Smurfit Kappa has launched a range of sustainable fruit containers that, it claims, helped a customer boost sales by 50%.
The containers are the result of a consultation between Smurfit Kappa designers and a fresh fruit provider they met in Poland and who asked them to create an alternative to wooden crates and punnets, which are the most common types of packaging for fruit and vegetable.
The European corrugated packaging company has revealed that the two products used, SoFruPak and SoFruBox, were designed in order to provide the ideal logistic performance through the reduction of storage space by 70%.
The company also claimed that the branded design emerging from this collaboration has had a substantial impact in store leading to the 50% sales increase.
"Smurfit Kappa's packaging solutions are adaptable, recyclable and break down completely within months, a key requisite for the thriving organic food sector," the group said, adding that more and more retailers and food producers around Europe request paper-based packaging for their products.
This growing demand has recently pushed several packaging producers to come up with more and more sustainable, paper-based solutions in the fruit and vegetable industry. One of these, Modiform, a company that makes thermos-formed plastic packaging for horticulture, recently launched a range of transport trays and pots made entirely from 100% recycled paper waste.
Edwin Goffard, Chief Operating Officer at Corrugated Europe said: "Corrugated packaging lends itself well to high-spec branding which is an important differentiator. Printed, instantly recognisable packaging has a distinct in-store advantage when it comes to that first moment of truth for consumers.
"We are also seeing a growing number of retailers and growers seeking to use a more sustainable type of packaging that is 100% biodegradable and does not harm the planet."
Smurfit Kappa will aim to present its most innovative, paper-based solutions at the Fruit Logistica event in Berlin next month. During the event, the company will present its products using virtual reality technology.