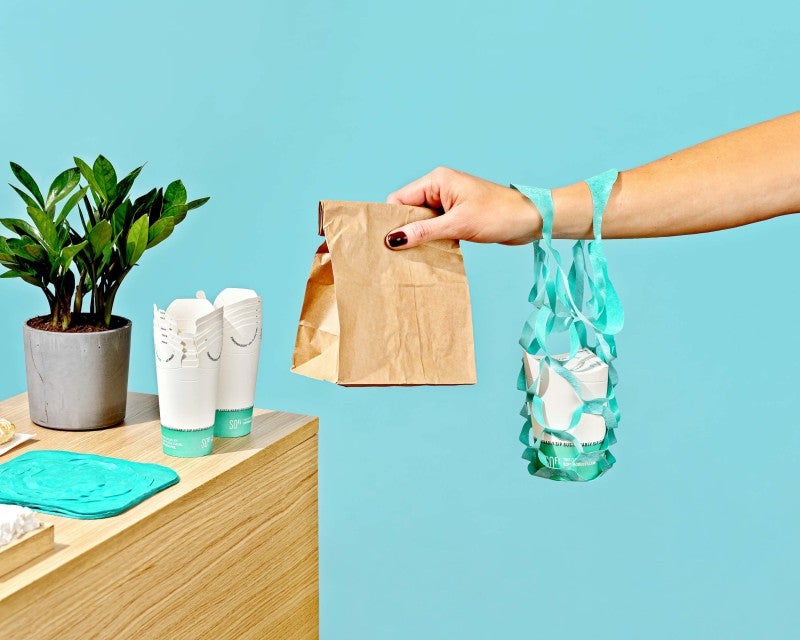 Eco-friendly packaging solution provider SOFi has launched a new fabric-based, 100% compostable cup carrier for food and beverage businesses.
Dubbed, The SOFi Cup Carrier, the new product is made from spunlace cotton, which is the same material as flushable wipes.
The lightweight cup carrier is also claimed to biodegrade in both landfill and marine environments in less than 180 days.
According to SOFi, the durable cup carrier can hold beverages large and small, while the eco-chic design is ideal for Instagram posts and conversations.
The SOFi Cup Carrier, which comes in packs of 100, also offers a space-economical alternative for business owners compared to a traditionally used pulp or cardboard carriers that often require customers to use two hands.
In addition, it enables customisation on the new cup carrier, helping businesses create a seamless brand experience.
SOFi in a statement, said: "When customers use the SOFi Cup Carrier, they simply place a beverage in its centre and pull up its opposite edges, offering a hands-free carrying experience."
The SOFi Cup Carrier complements the company's other compostable products, including the SOFi Cold Cup and SOFi Straws.
The commonly used Perfluoroalkyl and Polyfluoroalkyl Substances (PFAS)-based packaging is associated with various adverse health outcomes, including reproductive harm, cancer, liver damage, and other ailments.
SOFi further added: "For a product that's used for such a short period, traditional cup carriers carry a significant environmental impact.
"Those dull, brown cup carriers that are common in fast food are made from PFAS-based moulded pulp, which takes years to biodegrade. When they eventually break down, PFAS chemicals seep into soil and waterways, contaminating water and wildlife."