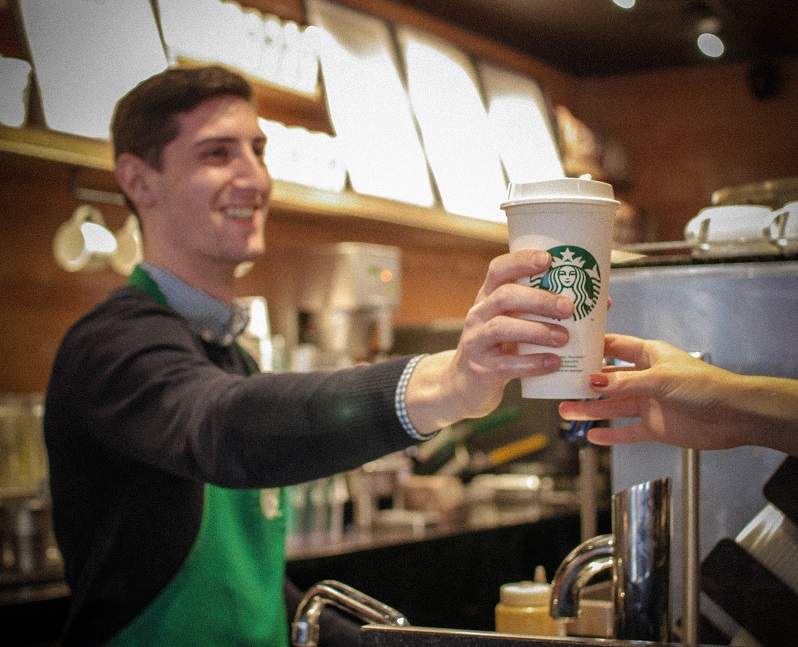 US coffee chain Starbucks has started a 5p paper cup charge trial in London that aims to test and influence consumer behaviour towards the need to cut waste.
For a period of three months starting from 26 February, the company will impose a 5p charge on all the plastic-lined paper cups purchased in 35 of its stores across the city, West End and west London, to see whether customers will start carrying reusable cups.
Starbucks will donate the proceeds from the charge to environmental charity and behaviour change analysts Hubbub, who will keep track of consumer reactions, contributing to the reduction of waste in the capital.
The move comes after research carried by Starbucks revealed that almost half of the consumers surveyed claimed they would carry a reusable cup as a consequence of the 5p charge.
The company said it would also have an instore marketing communications system that will inform customers of the charge, which will be added to any paper cup purchases in the 35 stores.
Simon Redfern of Starbucks Europe said: "We're hoping that this charge will remind customers to rethink their use of single-use plastic-lined cups, as it has with plastic bags. We've offered a reusable cup discount for 20 years, with only 1.8% of customers currently taking up this offer, so we're really interested in working with Hubbub to see how this charge could help to change behaviour and help to reduce waste."
Starbucks also said that its baristas will serve all instore drinks in ceramic cups. Since 2014, the company has started selling £1 reusable cups to encourage people to reduce waste.
Hubbub co-founder Gavin Ellis said: "Our early conversations with customers have shown an increased awareness of the need to reduce waste from single-use cups. Previous studies have shown that adding a charge on single-use cups is more effective than money off a reusable cup.
"We're excited to be working on this initiative with Starbucks to find out if this is the case on the high street and to discover what else will encourage people to use reusable cups."
Campaigners are demanding the government, retailers and packaging companies develop sustainable solutions to tackle the ever-increasing issue of packaging waste, to which single-use cups contribute.
This prompted MPs to open debate on the imposition of a 'latte levy', with experts claiming that it could raise £348 million and reduce the amount of cups used by 30%.
As well as encouraging customers to ditch single-use cups, Starbucks applies a 25p discount for those who bring in a reusable mug or tumbler. British coffee chain Costa has started applying the same discount, while sandwich brand Pret a Manger deducts 50p.