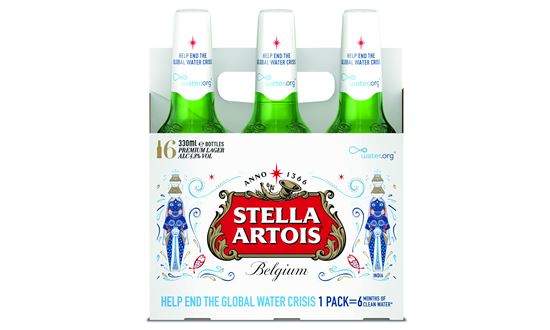 Belgian brewing company Stella Artois has renewed its commitment to making clean water available in underdeveloped areas by designing limited-edition packaging.
The brand joined forces with American non-profit organisation Water.org in 2015 to embark on a four-year partnership to help provide 3.5 million people around the world with sustainable access to clean water by 2020.
Through the scheme, Stella Artois vowed to give one month of clean water to a person who needs it for every new co-branded limited edition bottle or can bought.
Within this framework, the purchase of a limited-edition Stella Artois Chalice—the company's distinctive glass—helps provide five years of clean water to a person in the developing world, and every 12-pack edition sold will help Water.org provide 12 months of potable water to those in need.
Jerry Maguire, off-trade sales director at AB InBev, the brewing company that owns beer producers including Stella Artois, Budweiser and Corona, explained that the project is just the beginning.
He said: "With the support of our customers and consumers, so far we have donated more than $8 million to Water.org, helping to change the lives of more than 1 million people. However, there is still work to be done and we strongly believe that our customers in the off trade can play a key part to helping address the issue.
"Research shows that 70% of millennial shoppers consider a brands ethics and values when making a purchase. This is why we've created an off trade package that not only raises awareness of the cause, but also supports our customers from a business and reputational perspective," Maguire added.
Earlier last week, the beer company announced the production of a TV spot to be broadcast during the 2018 Super Bowl break that will feature actor Matt Damon, a long-term partner and promoter of the initiative.
In the past years, Water.org has also partnered with IKEA Foundation to drive innovation in the water sector and improve the wellbeing of children.