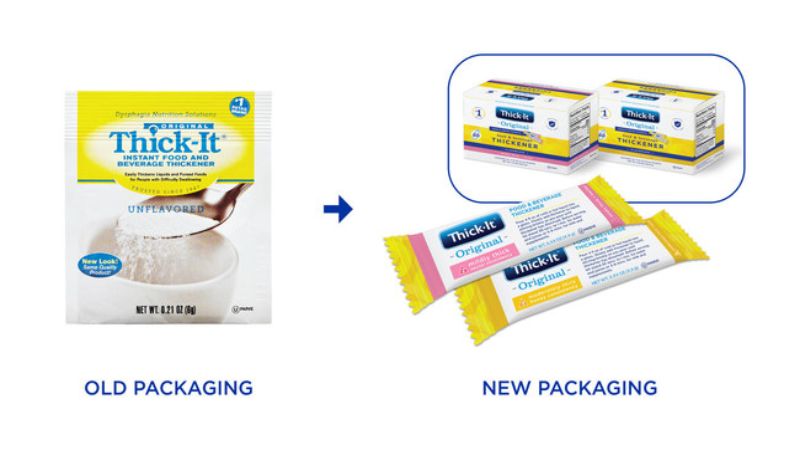 Thick-It: Original Food & Beverage Thickener, a brand that caters to people with swallowing difficulties, has switched to stick packaging.
The move makes its food and beverage thickeners available in new stick packaging which are more convenient to use.
The starch-based Thick-It Original Food & Beverage Thickener Single-Serve Packets can be used to thicken hot or cold beverages and puréed foods to desired consistency without changing food flavour.
Customers can use the new packs on the go or at home. Each of these stick packets includes pre-portioned quantity for single serving.
Additionally, the packaging revamp is expected to help healthcare professionals and kitchen staff to quickly thicken food and drinks for the patients.
The company noted that the new packaging complies with the International Dysphagia Diet Standardisation Initiative (IDDSI).
Currently, the thickening packets are available in IDDSI Level 2 — Mildly Thick, and IDDSI Level 3 — Moderately Thick consistency.
Such single-serve packets are available in cases, where each case comprises eight boxes containing 25 packets each.
Thick-It is a registered trademark of Kent Precision Foods Group. The unit is focused on innovating dysphagia nutrition products. Dysphagia refers to the condition which makes swallowing food difficult.
It launched the first commercially available food and beverage thickener in 1987.
Currently, the product portfolio includes xanthan- and starch-based food and beverage thickeners, ready-to-drink beverages, and puréed foods. These products are available at pharmacies across the US and through North American and international distributors.