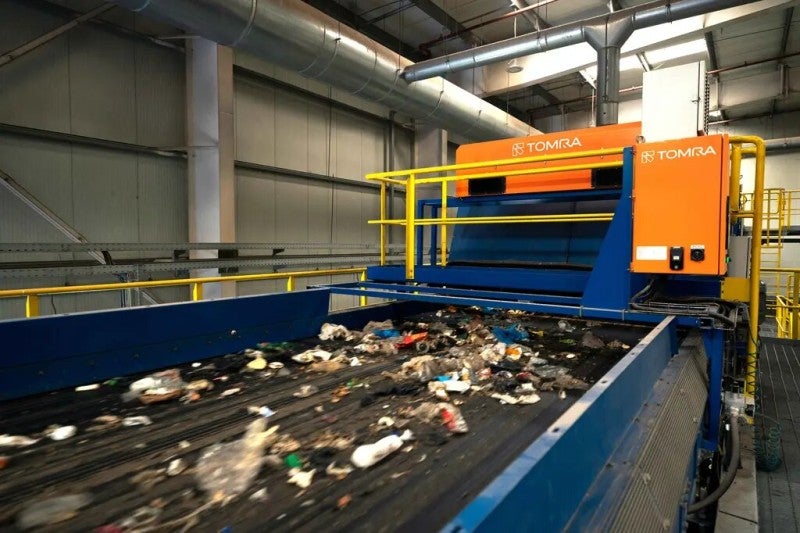 Norwegian recycling firm Tomra and UAE-based facility management company Imdaad have partnered to install new sensor-based sorting technology at a material recovery facility (MRF) in the UAE.
Named FARZ, the facility is claimed to be the country's first automated MRF.
It uses Tomra's AUTOSORT sensor-based sorting technology, which recovers high-quality, high-purity value recyclates.
The technology integrates advanced features and technologies into one machine and enables up to 320,000 scan points each second.
Built on a 45,322m² plot in Dubai's National Industries Park, FARZ houses separate lines for municipal solid waste (MSW) and consumer and industrial (C&I) waste.
Tomra's six AUTOSORT units at the facility help identify and separate plastic materials from the infeed waste streams, as well as sort high-density polyethylene (HDPE) and polyethylene terephthalate (PET) from mixed 3D plastics.
Imdaad owns and operates the facility, which is capable of processing 1,200t of MSW and C&I waste each day.
The company will collect C&I waste from the Jebel Ali Free Zone (JAFZA) in an effort to help Dubai eliminate all waste from its landfills by 2030.
Imdaad chief operating officer Mahmood Rasheed said: "We were already familiar with Tomra Recycling Sorting's technology because they have successfully installed numerous sensor-based sorting systems in the Middle East.
"By working closely with our team in the design process, Tomra Recycling Sorting has helped to deliver a highly automated and highly efficient plant that is achieving fantastic rates of recovery and purity with minimal requirement for manual sorting.
"The flexibility of the AUTOSORT technology and the ease of upgrading in the future should we need to mean that we have a future-proof solution."
In December last year, Tomra's board of directors approved an investment of €50m-60m ($53.6m-64.4m) for the construction of a sorting plant for post-consumer plastic material in Germany.