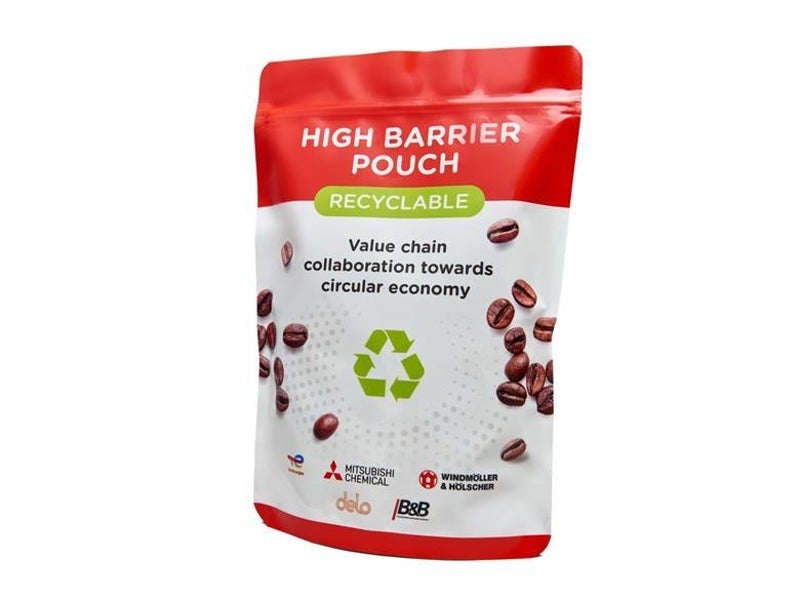 French energy and petroleum company TotalEnergies has developed a high-barrier recyclable packaging solution for food-grade applications alongside Windmöller & Hölscher (W&H) and Mitsubishi Chemical Group (MCG).
The fully recyclable, high-barrier stand-up pouch contains 98% polyethylene and less than 2% ethylene vinyl alcohol (EVOH).
The packaging is made from a machine direction orientation (MDO) film, which is a combination of TotalEnergies' Supertough, Lumicene high-density PE and Mitsubishi Chemical Group's Soarnol.
It also features a sealing film laminated together by Dettmer Verpackungen.
The structure was converted into a stand-up pouch for applications such as coffee packaging by machine manufacturer B&B Verpackungstechnik.
The packaging solution is designed to replace multi-material structures such as metalised BoPP/PE or metalised BoPET/PE.
It aims to offer a similar performance to that of previously used materials while remaining compatible with existing recycling streams.
The packaging will also help the brand owners meet their commitments to offering fully recyclable packaging by 2025.
TotalEnergies Europe & Orient polymers vice president Olivier Greiner said: "The replacement of non-recyclable multi-material packaging is key to ensure the circularity of plastic materials, bringing more qualitative items on the market to be used as feedstock for the recycling industry.
"We are committed to accelerating the circular economy by integrating eco-design principles into our product development process, in line with our ambition of producing 30% recycled and bio polymers by 2030."
W&H product management head Dr Jonas Schmidt said: "With this product study, we are very pleased to showcase another missing piece in the puzzle towards a true circular economy.
"Our leading knowledge and cutting-edge technology for the production of barrier and MDO-PE films, as well as the excellent co-operation between all partners, have made this possible."
In May this year, TotalEnergies signed a commercial agreement with chemical recycling firm New Hope Energy to develop an advanced recycling project in Texas.