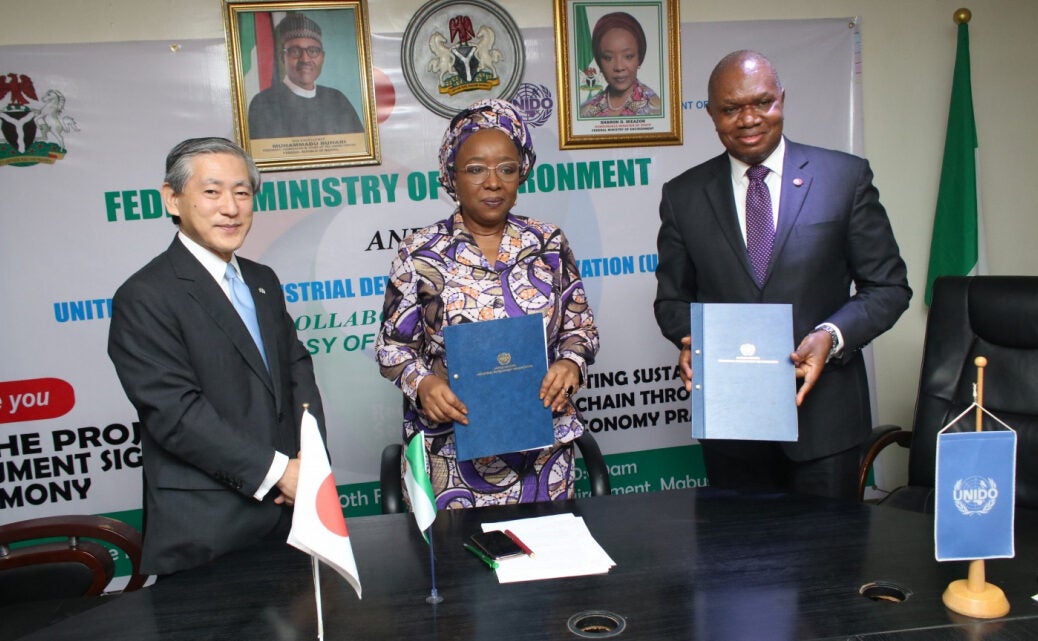 The United Nations Industrial Development Organisation (UNIDO) has partnered with Japan on an initiative to manage plastic waste in Nigeria.
A $2.8m agreement has been signed between the Nigerian Federal Environment Ministry, the Embassy of Japan in Nigeria and UNIDO.
The three-year project is based on the results of UNIDO's 2021 Study on Plastics Value-Chain in Nigeria.
It will aim to promote circular economy principles and practices and strengthen plastic value chains, with a special focus on the recycling sector.
UNIDO Nigeria director and representative Jean Bakole said: "The project will develop national and state implementation guidelines for Nigeria's National Policy on Plastics Waste Management, strengthen recycling value-chains in selected municipalities in Lagos and Federal Capital Territory, and demonstrate technology for circular economy and resource efficiency practices."
The project comes after long-term collaboration between UNIDO and the Nigerian government, who have worked together on plastic pollution reduction efforts since 2013 and with the Japanese government since 2020.
It also follows the Osaka Blue Ocean Vision, which aims to eliminate additional marine plastic litter pollution by 2050 by taking a 'comprehensive life-cycle approach'.
The agreement is part of Japan's Marine Initiative, which was introduced to contribute to the Osaka Blue Ocean Vision by expediting action on marine pollution effectively worldwide.
It has a wide range of stakeholders and is expected to offer inclusive and participatory plastic waste management in Nigeria.
Japan Ambassador Extraordinary and Plenipotentiary to Nigeria Kazuyoshi Matsunaga said: "This project is multifaceted, contributing not only to reducing the leakage of plastic waste into the environment, but also to the creation of new economic opportunities."
Nigerian Environment Minister Sharon Ikeazor said: "The project is quite apt and could not have come at a more auspicious time.
"It will complement the efforts of government in mainstreaming circular economy principles and practices into our National Development Plans."