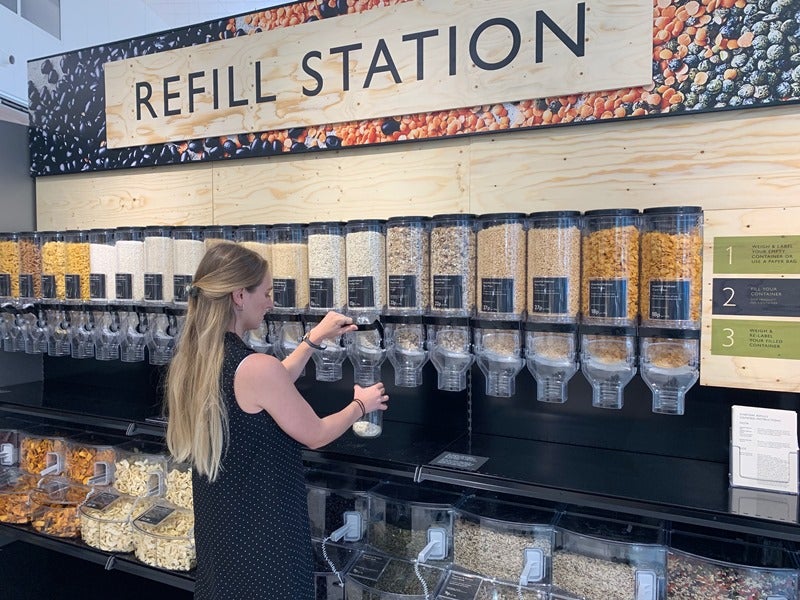 UK supermarket chain Waitrose & Partners has launched a new packaging-free retail concept at its renovated store in Wallingford.
The retailer developed the Unpacked initiative to reduce plastic use. The concept will test consumer attitudes towards packaging-free product shopping.
The renovated Wallingford store also has new sushi counter, dry-aged beef cabinet, new hot chicken and updated cheese and deli counter, click and collect area, self-serve checkouts and more.
The dedicated refillable zone at the store also features frozen 'pick and mix' and refillables zone for essential, detergent and washing up liquid, wine, beer and coffee.
Waitrose & Partners Wallingford branch manager Alex Hume said: "We are really excited that Unpacked is launching in Wallingford and we are looking forward to showing our customers our newly refurbished shop.
"As we are only the third store in the UK to test the Unpacked concept, customer feedback can play a pivotal role in shaping how we may take it forward in the future."
Initially launched in Oxford Botley Road shop in June, Waitrose Unpacked received a positive reaction from over 90% of consumers. The retailer plans to expand the test to three more shops this year.
Following the launch in Wallingford, Unpacked will be introduced in its Abingdon store later in November.
The retailer has pledged to eliminate black plastic from its all own-brand products by the end of the year.
Waitrose also introduced its home compostable ready-meal packaging.