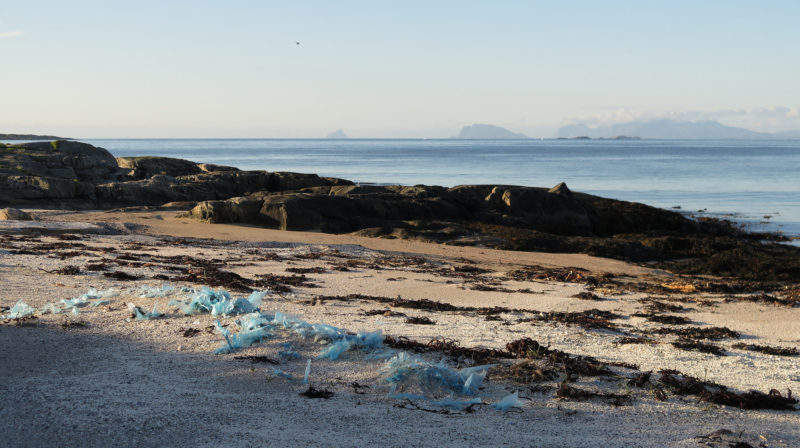 A study revealing that whales, sharks and other marine species are increasingly threatened by the presence of microplastics in the ocean has prompted scientists to call for more research to be carried out on the impact of these materials.
The study, which was published in the journal Trends in Ecology and Evolution, claims that baleen whales, rays and basking sharks–the most common large filter feeders existing–tend to ingest hundreds of tiny fragments of indigestible plastic every day.
As they sift for plankton from seawater, these animals are not able to divide microplastics from actual nourishment. If contaminated, their ability to absorb nutrients can be blocked or affected by the materials' toxic side-effects.
The Mediterranean Sea, the Gulf of Mexico, the Bay of Bengal and the Coral Triangle are said to be the areas with the highest risks of contamination.
According to the American, Australian and Italian researchers who looked at the data, microplastics are less than five millimetres long and could drastically reduce the population sizes of the large filter feeders.
In the worst-case scenario, the materials could even be responsible for the species' extinction.
Scientists also claimed that these ocean giants should be a priority subject of research, as there have been reports of 800kg of plastic found in the carcass of a beached whale in France, while another in Australia had 30 whole plastic carrier bags inside its body.
Elitza Germanov, a researcher at the Marine Megafauna Foundation and co-author the study, said: "Despite the growing research on microplastics in the marine environment, there are only a few studies that examine the effects on large filter feeders.
"We are still trying to understand the magnitude of the issue. It has become clear, though, that microplastic contamination has the potential to further reduce the population numbers of these species, many of which are long-lived and have few offspring throughout their lives."
She concluded: "It is worth highlighting that utilising these iconic species, such as whale sharks, manta rays and whales to gain the attention of and engage with communities, policy makers and managers will go far to enhance stewardship of entire marine ecosystems."