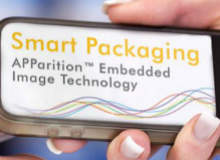 Parkside's APParition technology engages with customers using the latest smartphone and tablet technology. Embedded images are printed behind existing pack graphics, invisible to the naked eye, and detectable by most modern mobile devices.
Used for anti-counterfeit or promotional campaigns by brands and retailers, APParition technology creates cost effective customer loyalty through consumer interaction with the pack.
A downloadable APP is linked to a website landing page of your choice with total flexibility for promotion; up to eight pay offs per landing point can be created and amended as needed. From recipes to nutritional information, from sourcing, vouchers, competitions and promotions, APParition enables pack connectivity in store or in the home delighting your consumer.
Other benefits of APParition include the inclusion of an enclosed loop for CRM data collection and analysis and the security features which mean it can be used for additional verification and authentication to drive counterfeiters to other less complex brands increasing your brand security.
The APP can also direct consumers around a store to purchase complementary goods via promotion, enhancing upselling in store.