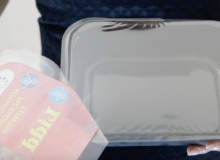 LIDD is the revolutionary film lidding development for the ready-meal packaging market. Essentially, LIDD sees a printed top web laminated to a base film, suitable for use in either a microwave or oven, eliminating the need for secondary printed sleeve packaging.
The reduction in packaging creates a nominal 10% cost saving as well as a 45%+ saving in production energy and weight during transit. This reduces the carbon footprint of the pack, whilst increasing the consumer appeal of the solution through maximization of the marketing real estate. Reverse printing of the film top web allows for branding to be clearly visible on the front of the pack, as well as product information to be printed on the underside.
Product safety is front of mind with LIDD® design, the highly printed top web is safely separated from the bottom film layer prior to cooking ensuring that film printing ink potential migration is eliminated.
LIDD® delivers a novel looking pack to drive sales with no compromise on graphics or legally required information and is a cost-effective lidding solution that can be used on standard tray sealing lines without modification.