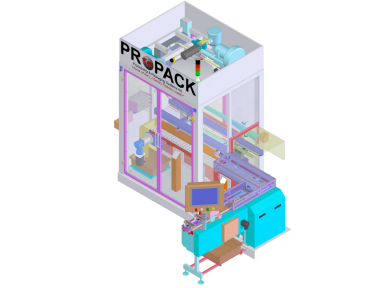 Propack's LJ-TRT automated product collator and carton-loading system is an advanced technological solution that has been specially developed to load the output from medium and high speed industrial wrapping machines quickly and accurately.
The LJ-TRT Dual will accurately collate your product and load into cartons, trays or multipacks.
Depending on your product's characteristics, the LJ-TRT carton loader can operate at speeds up to 900 products per minute.
Experience the benefits of the LJ-TRT carton loader
Easy operation via simple operator interface
Increased uptime
Quick, repeatable size changeovers
Sanitary design
Flexible design accommodates various package sizes
Low operating costs
Your LJ-TRT carton loader is loaded with features
Speeds up to 900 incoming cartons per minute and 85 cartons per minute output
Triple Turbo-Train product bucket conveyors for high-speed, precise collation
Servo-driven, lug-less Carton Management System for precise carton positioning
Quick and easy, recipe-driven changeovers
Rugged, sanitary frame design
Simple integration with most flow-wrappers
Quick, no-tool changeover for product buckets
Quick, no-tool changeover for carton size adjustment
Cantilever-designed infeed conveyor for ease of belt removal
Product spacing reject system removes double packs
ABB IRB360 Flexpicker Robot with IRC5 controller
Allen-Bradley ControlLogix PLC with Kinetix 6000 Sercos servo drives and motors with A-B PanelView Plus 1500 HMI
Small footprint: 118in x 60in (2,997mm x 1,524mm)