Washdown series food product counting machine is suitable for use in hygienic environments.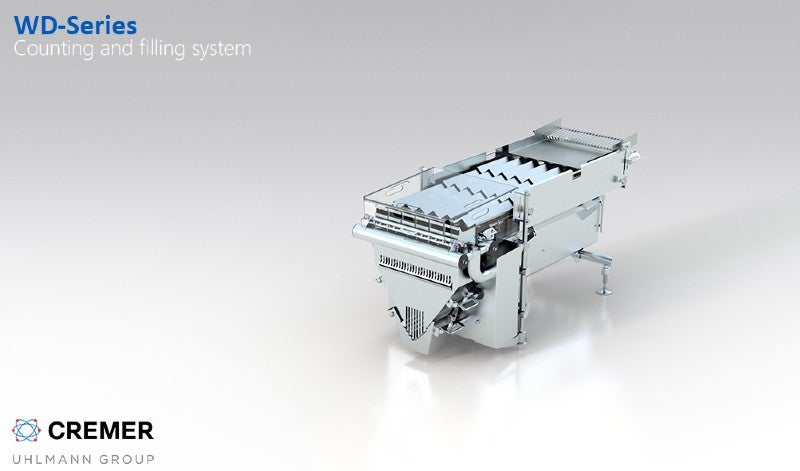 Washdown series food product counting machine is suitable for use in hygienic environments. The stainless-steel machine frame and contact parts are specifically designed for washdown / wipe down conditions.
Counting food products by the piece is proven to be more efficient than counting by weight as the counting accuracy is not affected by small weight variations between individual products. The versatility of the WD counting machine extends to the possibility of counting a large variety of different food products either in bulk quantities or for consumer-sized packages. The compact counting machine has a relatively small footprint and can easily be placed on a hygienic platform, on top of a VFFS bag maker or over an indexing tray or carton conveyor. Cremer can also offer a total and fully customised counting and packaging solution that is perfectly suited to your needs.
The washdown design and execution makes the WD counting machine ideal for harsh working environments, such as meat, poultry and marine food processing. It is designed for a low-pressure hose wash with moderate use of sanitising chemicals. The machine includes a stainless steel frame and corrosion resistant parts. The food contact parts can be swiftly removed from the machine and without the use of any tools. A cleaning trolley can be used for convenient storage and cleaning all food contact parts.
Benefits of the WD Series:
More efficient than weighing
Small footprint
Scalable output and performance
Also suitable for chilled and deep-frozen food (IQF)
FDA compliant contact parts for processing both food and non-food products
Ease of operation and maintenance
Tool-free disassembling
Separate parts trolley for convenient sanitising
Compatible with all industrial packaging machines
Designed and constructed in accordance with Sanitary Equipment Design Principles
Technical data:
Available models WD, WDF
Number of products channels 4, 6, 8, or 12
Number of separation flap levels 1 or 2
Nominal frame size 600 mm
Output 900 products/min*
*Typical output up to 900 products/min. Actual output speeds are related to the number of product channels and separation flap levels
Cremer is a Dutch company that specialises in product counting and packaging solutions for the pharmaceutical industry, food and non-food industries and agricultural industry.