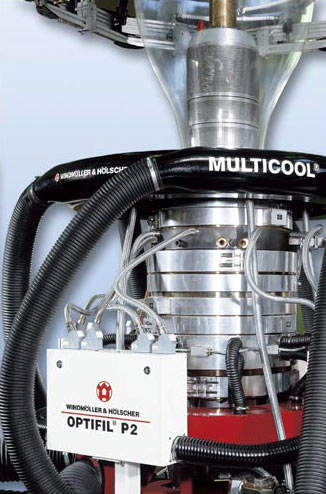 Atlantis Plastics Inc., a Georgia based manufacturer of polyethylene custom films, stretch films and moulded plastic films, installed a five-layer VAREX® extrusion line supplied by Windmoeller & Hoelscher Corporation at its Cartersville facility in November 2005.
Atlantis, as part of its strategic business plan, wanted to expand its custom films division's market share in the converted flexible film market. To accomplish this it needed to increase its film extrusion capacities by installing additional equipment. Additionally, in light of existing competition in the market, Atlantis had to develop films that were superior in quality and performance.
Atlantis contracted Windmoeller & Hoelscher as it felt that the addition of the VAREX five-layer extrusion line to their existing seven-layer equipment would result in better growth prospects in the flexible film converter market.
FILM PRODUCTION CAPABILITY
Atlantis required a modular design that could be tailored to develop a wide range of films – from 25-micron PE-HD liner film up to five-layer barrier films with 275-micron thickness. Atlantis found that they could adopt the VAREX line to manufacture thin layers of three-micron EVOH in multilayer configurations.
VAREX FIVE-LAYER BLOWN FILM LINE
The key factors required by Atlantis in their drive for high quality flexible film production were sheet flatness, roll conformation, five-layer flexibility and large roll diameters.
To meet these requirements, Windmoeller & Hoelscher fitted the VAREX line with a Maxicone® multi-layer die for the five-layer film, an Optifil® P2 automatic thermal gauge profile control system, Multicool D® double-deck air ring for three stage cooling, Multinip® oscillating haul-off with a nostic bubble collapsing unit and a Filmatic® S surface winder.
The Maxicone five-layer die is one of the most compact dies of its type on the market and provides a high level of flexibility, allowing Atlantis to process barrier films as well as polyolefin structures with high output.
Consistent film quality is maintained by the Optifil P2 automatic thermal gauge control system that controls the thickness levels of the film through modification of melt temperatures.
The three-stage cooling process offered by the Multicool D double-deck air ring system provides cooling air to the external blown film bubble. As the melted plastic is extruded from the die, the first air ring provides constant cooling air. The second air ring provides additional cooling. Atlantis can adjust the levels of both these rings to modify the strength of the film, providing flexibility in operations.
The Multinip oscillating haul-off creates a long bubble collapsing area with efficient cooling to aid in generating quality film. Winding is performed by of the Filmatic S surface winder, which features automatic taper tension and contact pressure. Atlantis can also utilize the vacuum cutover drum incorporated in the winder for reverse winding abilities.
A touch screen panel provides better control alongside a console that enables simple storage, monitoring and analysis of data.
BENEFITS
Atlantis has improved on the quality and performance of its products by installing the VAREX line. Atlantis now has the ability to wind very large OD rolls (greater than 40in) with better roll formation and up to five layers. The line width, die size and layer configurations meet Atlantis' packaging structure requirements and increase compatibility with converting equipment.