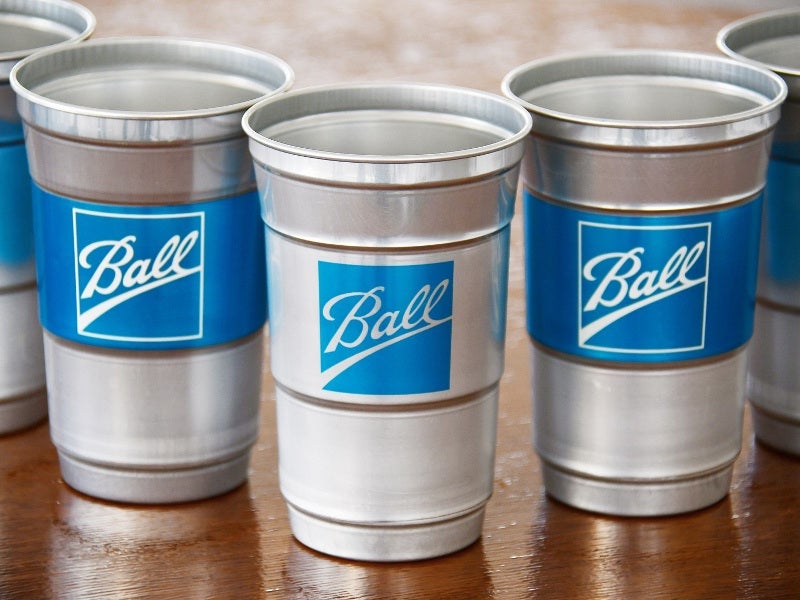 Ball Corporation opened a new manufacturing facility in Georgia, US for manufacturing its Ball Aluminium Cup™ infinitely recyclable aluminium cups. The new facility enables the company to meet the growing demand for innovative and sustainable beverage packaging for US consumers.
The facility was developed with an investment of $200m, which was in line with the company's Drive for 10 strategy, aimed at expanding its business and ensuring long-term growth.
Ball Aluminium Cup™ is composed of 90% recycled content, which is the highest recycled content rate of any beverage packaging in its category. The recyclable aluminium cups are an environmentally friendly alternative to plastic cups and aim to serve unmet needs in the industry.
Ball Aluminium Cup™ was recognised in Fast Company's 2020 World Changing Ideas Award in the consumer products category in April 2020. The product received Cradle to Cradle Certified® Bronze, which signifies the company's commitment to making safe, circular and responsibly made products.
It was also awarded the 2022 Edison Award for innovation in delivering sustainable solutions to consumers.
Location
The aluminium cups manufacturing facility was constructed near an existing beverage can production facility of the company in Rome, Georgia, which significantly expanded the company's presence in the region.
Ball aluminium cup manufacturing facility
The facility produces aluminium cups with customer-specific prints and sizes, including 9oz, 16oz, 20oz, and 24oz.
The new aluminium cups are lightweight, sturdy and durable. Being cool to touch, the cups aim to enhance the drinking experience for customers.
The cup that is currently in use can become a brand-new product in just 60 days, making it the most recyclable and sustainable product.
The first-of-its-kind Ball Aluminium Cup™ was made available for purchase at major retailers in all 50 states across the US between May and June 2021. The cups were made available for the first time in more than 18,000 food, drug, and mass retailers, including Kroger, Target, Albertsons Companies, Walmart, ACME United Crop, Shoprite, Sprouts Farmers, Ace Hardware Corp, Party City, whose parent organisation is Party City Holdings, Publix, CVS Health and many more.
The Ball Aluminium Cup™ is also available for customisation with logos and graphics for any occasion, with a minimum order quantity of 50,400 per size and graphic.
Ball aluminium cup launch
The highly sustainable Ball Aluminium Cup™ is available in a variety of sizes at major sports and entertainment venues. It can be found online on Amazon and at various grocery and retail stores for those celebrating at home.
Ball launched the recyclable aluminium cups through a limited pilot programme introduced in August 2019, hoping to introduce the cups at important venues and concessionaires across the US.
The recyclable aluminium cups were first introduced to guests at the Kroenke Sports & Entertainment-owned arena Pepsi Centre in Denver, Colorado, which debuted during the NBA's Denver Nuggets' home opener in October 2019.
Ball partnered with various companies such as Waste Management (WM), an environmental services company based in the US, Acosta, a marketing and service company, Blue Ocean Innovative Solutions, a marketing and merchandising company, to launch the aluminium cup at various sports and entertainment events.
Marketing commentary on Ball Corporation
Headquartered in Colorado, Ball is a supplier of innovative and sustainable aluminium packaging solutions. The company currently employs 17,500 people across its offices at more than 100 locations.
Ball serves a range of industrial sectors, such as beverage, personal care, automotive, paint, healthcare, and household.
The company's product range includes beverage cans, beyond beverage cans, aluminium slugs, alumi-tek bottles, printing and graphics, beverage ends and tabs and aerosol cans.