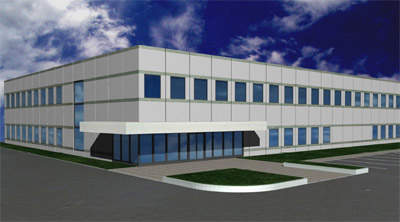 Baxter Pharmaceutical Solutions LLC is a major pharmaceutical contract packaging company in the US. It provides a range of contract manufacturing and packaging services for small-to-medium sized pharmaceutical companies.
The Bloomington vial and syringe filling project is the fourth phase of expansion of the existing facility. It was completed in 22 months from the time of FDA approval and was commissioned in mid 2005.
The Baxter expansion is attributed to the demand for fill and finish packaging capacity, which was not available from other contractors under one-roof. Also, most of the BioShield activities since 2002 involved the preparation of vaccines to protect US armed forces from exposure to chemical, biological and radiological weapons. BioShield is creating a demand for millions of units of fill / finish capacity.
The Phase IV vial and syringe filling project was budgeted at $125m.
Phase IV expansion
The existing production area was 140,000ft², the warehousing and cold storage space was 105,000ft² and the laboratory space occupied 17,000ft². The Phase IV facility added 162,000ft2 to the existing floor space. . The modular manufacturing space occupies 3,500m2 of the total expanded area.
The project involved renovation of the existing facilities as well as new constructions. The administrative area and the state-of the art modular manufacturing facility are built adjacent to each other. A large cold storage space was created for temperature sensitive products. An office site building was also renovated to expand the packaging operations in future.
The facility won the Facility of the Year award from the International Society of Pharmaceutical Engineers in 2006.
The existing facility employed 860 people.
Bioshield initiative
One of the main reasons behind the Baxter expansion has been the demand for fill and finish packaging capacity due to the Homeland Security BioShield Initiative.
Most of the BioShield activities since 2002 involved the preparation of vaccines to protect US armed forces from exposure to chemical, biological and radiological weapons. BioShield is creating a demand for millions of units of fill / finish capacity. There are very few manufacturers that can handle such demand.
Fill and finish lines
The expansion has also included two syringe filling lines each capable of filling and packaging 500 syringes a minute.. This was accomplished by using state-of-the-art INOVA Pac-Systeme filling machines. These lines, along with the accompanying blister packaging equipment, were supplied and installed by the Optima Packaging Group GmbH Corporation.
According to customer specifications, the new lines are able to aseptically formulate product and fill syringes as well as provide additional options, such as terminal sterilisation, plunger rod and backstop insertions. The options for filling presentations include: BD (Becton, Dickinson and Company) HYPAK SCF glass syringes in 0.5ml, 1.0ml, 1.5ml, 2.25ml, 3.0ml, 5.0ml, 10ml and 20ml sizes and BD READYFILL glass syringes in 1ml, 3ml and 5ml sizes. The syringes can then be labeled using clear acetate label stock with or without graduation marks and packaged in blister trays or printed cartons.
The two new vial filling and packaging lines allow the filling and closure of vials ranging in size from 2.0ml to 100ml in multiple languages and in a variety of label stocks. The vial closures can be 13mm, 20mm and 28mm sizes with inert, surface-coated or standard stopper configurations and flip-off or tear-away seals. The vials are packaged in single-printed cartons or multiple and bulk packs.
Packaging systems
Baxter Pharmaceutical Solutions offers a full range of pharmaceutical contract manufacturing and packaging services, including vial filling, lyophilization (freeze drying), syringe filling and cartridge filling. The company manufactures a variety of sterile product dosage forms including solutions, suspensions and freeze-dried powders encompassing human and veterinary small molecule, biologic, biotech, vaccine and protein pharmaceuticals.
The facility's capacity includes two formulation / filling suites capable of filling over 100 million 1.0ml to 3.0ml syringes annually and this is complemented by automated inspection, labeling and packaging equipment. Baxter Pharmaceutical Solutions is the largest contract manufacturer of pre-filled syringes in the US.
Vial filling includes high-speed filling of vials in sizes from 2ml to 100ml. A formulation / filling suite dedicated to commercial vial filling and lyophilisation features high-speed filling (18,000 units per hour) of 2ml to 100ml vials that are automatically loaded into three commercial capacity freeze-dryers. This line also uses automated inspection, labeling and packaging equipment.
The production facility is comprised of 48 modules, including preparation, formulation, filling and utility support suites. The modular design allows the production processes to be carried out at high speed and with excellent quality and accuracy. The existing filling rooms have an annual combined capacity of approximately 200 million units.
Contractors and construction
The facility extension was designed by the Raymond Professional Group. The general construction was carried out by the Turner Construction Group. Pharmadule AB was responsible for the process facility, which was built in a modular fashion. The architect for the packaging facility was Odle McGuire and Shook and the developer was Koll Development Company with the construction work being carried out by Weddle Brothers Construction.
Process equipment was provided by US Filter (water pre-treatment system), Kemiterm Getinge (two clean steam generators, three autoclaves, a terminal steriliser and a still), Zetterström (reverse osmosis (RO) tank and 25m³ WFI tank), Pharmadule (water for injection (WFI) loop and systems, clean steam system and two clean in place systems) and Carrier and Holland Heating (13 air handling units (AHUs) for the heating ventilation and air conditioning system (HVAC) system).
Voltec supplied the control system and building management system for the HVAC. Particle monitoring systems were supplied by Climet. Meter Toledo supplied two scales. Pharmadule also supplied and installed seven heating cooling skids. Process automation was the remit of Pharmadule/Orbitec.
Finance and grant incentives
Baxter Pharmaceutical Solutions received over $21m in tax incentives during the course of expanding their manufacturing and packaging operation in Bloomington. This includes $6.8m from the State of Indiana, $13.8m from Monroe County and $140,000 in road infrastructure improvement from the city of Bloomington. In addition, the Indiana Department of Commerce has awarded $5.9m to the company (over the period from 2004 to 2014), with an extra $400,000 in training grants and $500,000 for infrastructure improvement. The Indiana Department of Workforce Development has also awarded a $50,000 grant to train IT personnel.