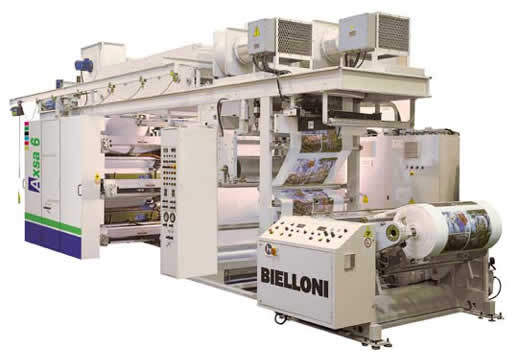 In 2003, Bison Bag expanded its facility at Lockport, NY, USA, to meet the increasing demand for plastic zipper lock and printed bags. The company invested $2.5m in a new printing press and stand-up pouch machine. Bison Bag expanded its existing floor space from 30,000ft² to over 52,500ft² in preparation for new equipment and production lines.
In May 2006 the company realised that it needed to expand its repertoire and build on the success of the past three years in providing bags to food processing companies across the world.
Bison installed a reconditioned 63in, eight-colour Uteco Amber 808 press in May 2006, which has greatly increased the company's speed, colour and size capabilities.
Previously Bison was limited to only six colours and 49in widths in its converting operations. The company had outsourced all of the eight-colour work it received for many years but now the Uteco press allows Bison to bring that work totally in-house and meet the needs of hundreds of new customers more efficiently.
Scott Zagoda, Bison Bag's executive vice-president, gives the reasons for the company's new equipment: "Our jobs are becoming more demanding, and some of the six-colour process work we print on our existing presses is better suited for eight colours.
"But knowing that the market is moving into eight and ten colours, and since we have been outsourcing some eight-colour items, we didn't feel it made sense to put a lot of money into another six-colour press. The Uteco gives wider-width capabilities that we didn't have before, as well as higher speeds and better-quality graphics."
PRINTED BAGS AND RESEALABLE BAGS
Bison Bag realised that there was a lot of competition in the manufacture of plain, clear plastic bags and therefore, in 2001, made an investment in equipment to produce printed bags and zipper resealable bags. A growth in demand for these products from larger companies in the USA prompted Bison Bag to purchase over 12 new pieces of equipment to increase production capacity and efficiency.The company's equipment includes:
Uteco Amber 808 flexopress with video inspection
Bielloni Axioma six-colour, 49in flexographic press
Carint Gemini six-colour, 42in flexographic press
Bielloni Julia Seconda II solventless laminator
Ashe 63in Sapphire S2 high-speed slitter
Ro-An 41in and 30in servo-controlled flat-belt bag machines and auto wicketers
Hudson Sharp 41in flat-belt bag machine
Hudson Sharp 30in servo-controlled flat-belt bag machine and servo-controlled auto wicketers
Maqplas stand-up pouch machine with zipper capabilities
Hudson Sharp three-side seal pouch machines
Eight AMI zipper machines
SPEC ink mixing and dispensing system
X-rite computer-controlled colour-matching system
Micro-dot mounter / proofers from Bieffebi and EL Harley
"The Uteco press allows Bison to bring that work totally in-house."
Scott Zgoda, Bison Bag's executive vice president, says that by differentiating into printing and zipper closure bags, the company is facing less and less competition. "We have a knack for working closely with people, finding solutions for people. I think going the extra mile for people and turning things around quickly and helping them to succeed is probably one of our biggest selling points."
PLASTIC BAG PRODUCTION AND PRINTING EQUIPMENT
The production lines producing and printing the bags include state-of-the-art equipment. The bags are manufactured from standard polyolefin roll and sheet material using a Titan SR-5 slitter, RO-AN Polystar 9000 and 9016 auto-wicketers with AMI zipper attachment.
The bags are printed using an X-RITE computer-controlled colour-match system and a Bielloni Axsa six-colour central impression press, which has process printing capability and will digitally print almost photo-quality images onto the manufactured bag.
Using a Bielloni Julia Seconda solventless laminator, the plant alsos produce food packaging that requires the lamination of different polymer layers such as polyethylene, polypropylene, COEX, polyester, metallised films, nylon and PVDC.
BISON BAG AND ITS CUSTOMERS
Founded in 1968, Bison Bag has seen significant growth in the last few years, growing to 45 employees and averaging 10% annual growth in revenues for each of the last three years.
Bison Bag has created its own market within the packaging industry by producing different products, such as zipper lock bags for the cotton wool balls sold in Wal-Mart (30 million bags a year), printed produce bags for supermarket chains such as Wegmans, and printed packaging for confectionery manufacturers such as Hershey (Reeses Pieces) and Mars Inc (M&Ms). Over 70% of Bison Bag's work goes into bags for the food industry.
"Bison Bags invested $2.5m in a new printing press and stand-up pouch machine."
The company produces quantities of bags from 5,000 up to millions and can also use a 'make and hold' procedure, where economical runs of bags are produced and stored in the company's 20,000ft² warehouse ready to meet times of high demand rapidly.
Scott Zgoda says about short runs, "We produce orders over one million, but we found a niche that we can fill with short runs.
"Yes, there are a lot of reasons to avoid short runs, but we made a decision to commit to meeting our customers' needs and want to make sure they get exactly what they need so they continue to call us."