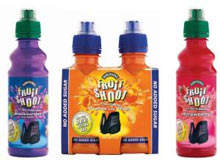 Britvic is a leading producer of soft drinks in the UK and Europe. It sells drinks in 400 different flavours to more than 250,000 retailers.
The Norwich facility packs the majority of the Robinsons squash and the ready-to-drink range. It packages for brands such as Aqua Libre, Idris, Purdey's, R Whites, Shandy Bass, Tango, 7UP and Pepsi.
The company has exclusive production lines for Robinsons, which have been upgraded to meet the growing demand for its ready-to-drink product range. In 2003, Britvic upgraded its polyethylene terephthalate (PET) lines by installing one BLOMAX 12 Series III and two BLOMAX 16 Series III stretch-blow moulding machines. In September 2006, Britvic again equipped one of its production lines with BOLMAX 10 Series III exclusively for Robinsons new range of Fruit Shoot drinks.
In 2008, Britvic redesigned and introduced light-weight bottles for Robinsons one litre squash bottles. Since 2006, the company has invested nearly £5m and saved around 1,600t of plastic.
BLOMAX 12 Series III
The BLOMAX 12 Series III machines are equipped with 12 cavity moulds, custom-designed by SIG Moldtec, and have been used at Norwich almost exclusively for the manufacture of PET bottles (five different coloured PET materials) for the Robinsons Fruit Shoot brand, which is retailed in 200ml and 300ml bottles with a pull up sports cap. The success of the Fruit Shoot brand has been attributed to the innovative brand-specific PET bottle. The line can produce PET bottles at a rate of more than 32,000 bottles an hour for both machines. There are now two more BLOMAX 12 Series III units at the Norwich facility (installed in 2004) serving yet another production line for the successful Fruit Shoot brand.
The original installation also included air compressors and conveyors to complete the production line. The original two BLOMAX 12 Series IIIs have shown low energy consumption and minimal maintenance costs, with daily lubrication needed as well as a once-a-year service from SIG Corpoplast.
BLOMAX 16 Series III
In August 2003, Britvic ordered two new stretch blow moulding machines, BLOMAX 16 Series III, to increase its PET bottle production capacity and efficiency at the Norwich facility. The two new machines are used to produce bottles for Robinsons fruit-squash-type drinks, including its barley water products in the one litre PET bottle. The machines were supplied and installed by SIG Corpoplast in November 2003.
This installation enabled Britvic to meet the inevitably increased product demand for the end-of-year festivities. The new machines were dedicated to the production of 1l bottles of Robinsons fruit squash. The two BLOMAX machines supplied to Britvic was a milestone for SIG Corpoplast as this was the hundredth Series III machine it had supplied since the launch of the series in 2001.
BLOMAX 10 Series III
In September 2006 the Norwich facility installed a further PET moulding machine on one of its production lines to produce bottles for new ranges of Fruit Shoot drinks called Robinsons Fruit Shoot H2O (fruit flavoured water) and Fruit Shoot 100% juice drinks. The machine installed was a BLOMAX 10 to produce crystal clear PET bottles in the well known Robinsons Fruit Shoot shape.
Lighter bottles
"The new light-weight bottles save 330t of plastic a year."
IThe light weight-bottles are 2g lighter at 36g, they had previously been reduced in weight by 1.5g in a pack redesign in April 2007. The new lighter design saves 330t of plastic a year, saving the equivalent of 9 million bottles, while reducing the energy requirements of the Norwich production facility by around 5%.
The new light weight preform for the new 1l bottle was supplied by Wrexham-based Artenius PET Packaging.