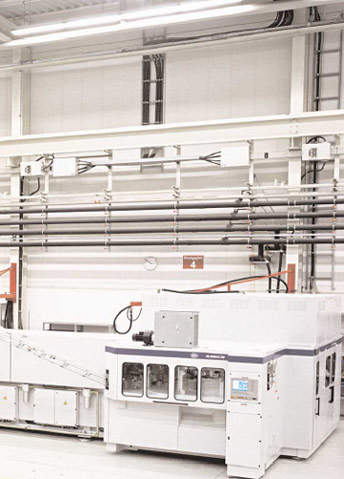 Britvic Soft Drinks expanded its packaging operations at its Rugby facility by converting an old warehouse into a new bottling facility in 2004.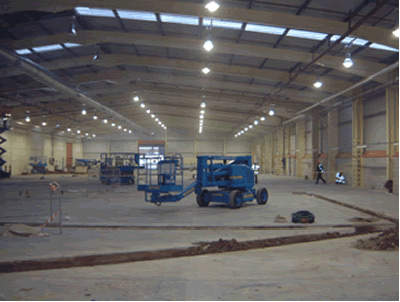 The warehouse prior to preparation and fit-out.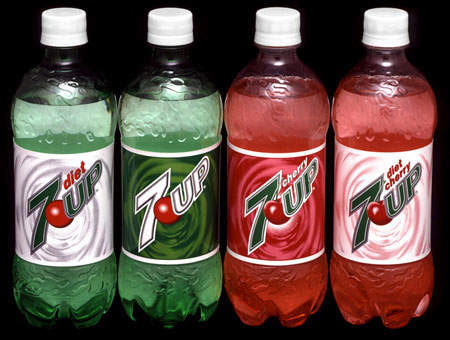 The expansion was undertaken because of an increase in demand for non-alcoholic soft drinks, especially in smaller containers.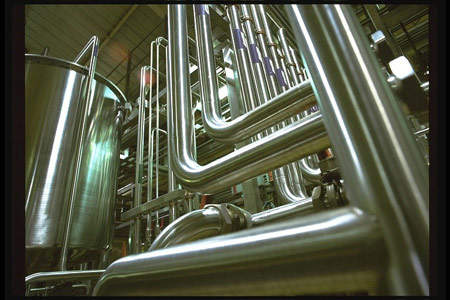 The new line added in 2004 allowed Britvic to produce, fill and process an additional 36,000 bottles per hour.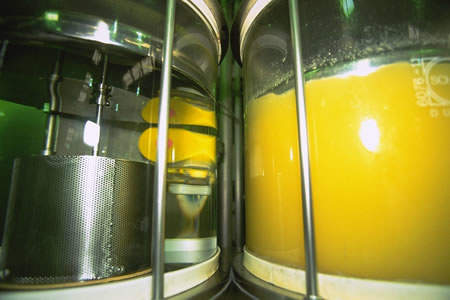 Part of the formulating / mixing equipment.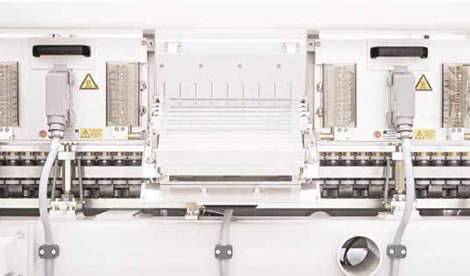 Blowmax series III heater box.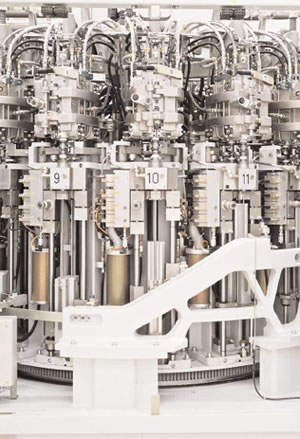 Blowmax series III blowing wheel.
Britvic announced an investment of £26.9m ($36.6m) to install a fourth canning line at the Rugby facility in September 2021. Credit: Britvic plc.
Britvic installed three new PET bottling lines, a new on-site warehouse and an aseptic line in 2018. Credit: Britvic plc.
Britvic, one of the largest soft drinks companies in the UK, expanded the packaging operations at its Rugby, UK, facility in the third quarter of 2004.
The expansion involved the conversion of an old 6,000m² warehouse into a new bottling facility. It was undertaken because of a general change in consumer behaviour, which increased the demand for non-alcoholic soft drinks, especially in smaller containers.
For this reason, the new facility is mainly used for Pepsi, Tango and 7UP brands in bottles and cans of different sizes, including 0.5l and 0.25l.
The new bottling facility enabled Britvic to produce, fill and process an additional 36,000 bottles an hour.
Britvic celebrated the 35th anniversary of the Rugby plant in June 2022.
Recent upgrades
The old lines are slow and less efficient in terms of water and energy usage. Britvic installed three new Krones PET bottling lines and an aseptic line to manufacture preservative-free drinks at the Rugby site in 2018, as part of more than £100m ($140.92m) investment in the facility.
The company announced in January 2018 that the workforce at the site would be increased to about 256 people through the creation of 80 new jobs.
Commissioning of the three new lines and the aseptic line took place in 2019. The new can lines have a combined production capacity of 6,000 cans a minute. The production lines' design provides performance efficiencies through increased production, reduced waste and flexibility to produce aluminium or steel cans on the same line.
A new 13-storey high automated high-bay on-site warehouse from Krones' Italian subsidiary System Logistics became operational the same year. It features 33,000 pallet storage slots.
Operations related to the storage of finished cases are fully automated. Pallets from the line are loaded onto a laser-guided vehicle at a frequency of four pallets at a time. The pallets are transported to the shuttle vehicle loop, from where they are carried in small vehicles to the high-bay warehouse for storage.
Water efficiency measures implemented at the site in 2020 reduced water consumption by 30,000t a day on average. The effluent treatment plant at the site was expanded in 2021. The company also implemented sustainable features such as LED lighting and sensors to improve energy efficiency.
Britvic invested £26.9m ($36.6m) to add a fourth canning line at the Rugby factory to increase production of 7UP, Tango, and Pepsi MAX. The new line, which became fully operational in the first half of 2022, expanded the capacity of the facility by about 18%. It produces 330ml cans for brands such as Pepsi, Tango, and 7UP. The investment also resulted in the creation of about 20 new jobs, increasing the workforce to more than 340 people.
CHP plant details
A combined heat and power plant (CHP) was commissioned in 2019. The natural gas-fired CHP produces heat and electricity to support the manufacturing operations at the site.
The project works included the construction of a two-storey electrical building and an elevated plant mezzanine deck, as well as the installation of three steam generators. Amendments were made to two existing boiler rooms, while two chimneys were also installed.
Stretch blow moulding machine
The SIG Corpoplast Blomax 12 Series III machine installed at the facility is a stretch blow moulding machine capable of linear operation at speeds up to 18,000 bottles an hour. The mandrel transport system guarantees that the preforms are not disturbed during the production process (which could cause rejects).
The machine has been specifically designed for extremely high production speeds without stretching the limits of speed and preform materials. The nominal capacity is 1,500 bottles a mould an hour for bottles of up to 1.5l volume.
The machine was based on a modular design concept, which simplifies the spare parts logistics, standardises training programmes and allows expansion if operational requirements change. The design of the mould carrier allows the adoption of a wide range of formats (it even allows the use of moulds from other suppliers if required).
The machine design was simplified to allow easy maintenance and changeovers. A complete heater box can be exchanged in a minute, a complete turning wheel in three minutes and a complete blowing station in 30 minutes.
The design of the transport mandrel for the preforms (a previous problem area) was improved to allow easier, more trouble-free operation. The preform in-feed to the machine is operated by a worm screw for gentle and reliable preform separation, increased speed and a reduction in floor space.
Britvic Rugby contractors and construction
The PET lines for the 2018 expansion were supplied by Krones, a packaging and bottling machine manufacturer based in Germany. The contract with Krones also includes a long-term maintenance agreement covering on-site support and training.
Envirogen Group provided an enhanced water treatment solution for the Rugby factory to meet increased production demand.
The PET line equipment was provided by German company SIG Corpoplast, which was a subsidiary of SIG and later merged with KHS in 2008. SIG Corpoplast provided two BLOMAX 12 Series III stretch blow moulding machines with four mould sets.
In addition, SIG supplied a SIG Simonazzi palletiser, a SIG Alfa labelling machine and a SIG Elletric 80 laser-guided vehicle for unmanned in-plant transport. SIG Corpolast also provided a full training programme for Britvic staff before the installation.
The filling equipment, provided by KHS Kisters, included filling and packaging machinery.
A new polyurethane flooring system (designed for cleanrooms), a combination of Sikafloor PurCem 20, PurCem 29 (for high chemical resistance) and PurCem 31 (to improve the overall finish), was installed in the warehouse by Sika-Armorex, a subsidiary of Sika. The flooring system was applied at a regulation depth of 9mm following careful preparation of the worn concrete surface to provide a hygienic anti-slip surface for the new facility.
The walls and roof of the warehouse building also had to be treated or modified to bring them up to the required standard for food and beverage packaging. This was carried out by Swirlforce, an industrial and commercial decorator based in the UK, and involved 2,800m of 11ft-high ceiling being sprayed with an impervious coat of enamel, while the bare block walls (internal surfaces) were painted with a special anti-mould emulsion paint (the coating and painting project took ten weeks and cost £30,000).
CHP plant contractors
E.ON was appointed to undertake the CHP project at the Rugby site. It is responsible for the operation of the CHP for 15 years.
SES Engineering Services (SES) received a contract from E.ON to act as principal contractor in July 2018, providing mechanical and electrical systems design and installation services. It built the new CHP energy centre under the contract.
Riddell PM, a construction industry consultancy based in the UK, was engaged to provide its Pyramid Digital Building Manual for the project. The company also provided a building fabric manual, mechanical and electrical services manuals, as well as an asset register.
Maintenance contracts
Britvic had extended its relationship with Castrol (which also provided services to Britvic's Norwich plant) to provide a predictive maintenance programme for the new bottling facility. Castrol provides its Advantage programme, which involves a full-time Castrol engineer on the Britvic site for lubrication management and condition monitoring of equipment.
A major part of the predictive maintenance programme involves the ongoing analysis of every machine in the plant to ensure that wear levels are accurately monitored and action taken to prevent breakdowns. Bearing wear is tracked constantly using vibration analysis and shock pulse monitoring. Full oil changes are required every four years instead of every six months due to the use of Castrol high-performance lubricants.
SIG Beverage was selected for a maintenance and service contract for the machines.