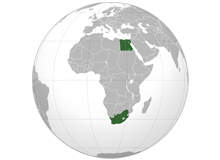 The Coca-Cola Company (Coca-Cola) unveiled a new water bottle filling plant in Heidelberg, in the Gauteng region of Johannesburg, South Africa, in July 2011. The plant broke ground in August 2009 after obtaining approval from the Department of Water and Environment.
The new state-of-the-art facility will bottle spring water for Coca-Cola's premium water brand Valpré. Valpré makes up 14% of the total bottled water market in South Africa. It is available in PET bottles of 500ml, 1l (sparkling) and 1.5l (still).
The location was strategically chosen in order to be close to markets and distribution sites in the Gauteng region. The proximity will allow the company to meet rising demands for bottled water in the country. The plant opening complements the launch of Coca-Cola's PlantBottle for the first time in Africa.
The facility will be run by a team of Afro-American women. The strategy is a part of Coca-Cola's 5 BY 20 initiative to empower five million women by 2020.
PlantBottle water container system
The PlantBottle has a low carbon footprint and is the world's first recyclable PET plastic beverage bottle made from 30% plant-based material. It is 100% recyclable.
It was first launched in the US in 2009 and since then the company has sold more than 2.5 billion packages, eliminating the use of 60,000 barrels of oil used for making PET plastic bottles.
PlantBottle is currently available in nine markets around the world, Africa being the tenth market.
Process and technology of Coca-Cola's PlantBottle
"The Coca-Cola Company unveiled a new water bottle filling plant in Heidelberg."
PlantBottle is made from a blend of petroleum-based material and up to 30% plant-based materials.
Unlike traditional PET plastic bottles that use petroleum and fossil fuel to produce the key plastic ingredient, PlantBottle uses sugar cane and sugar cane by-product-molasses to make the same key plastic ingredient.
A conventional PET plastic bottle is made from two components known as mono-ethylene glycol (MEG) and purified terephthalic acid (PTA).
MEG makes up for 30% of the PET bottle weight while the remaining 70% is made up by PTA.
It is the MEG that Coca-Cola Company manufactures from sugar cane ethanol sourced from Brazil.
The PlantBottle can be manufactured in the traditional PET manufacturing and recycling facilities as it does not contaminate the PET.
Benefits of PlantBottle production
The Heidelberg water bottling facility is the greenest plant in Africa with a zero to land fill target.
"The PlantBottle has a low carbon footprint and is the world's first recyclable PET plastic beverage bottle."
It is currently undergoing leadership in energy and environmental design (LEED) certification. The plant is designed and built in a way that maximises recycled materials and minimises carbon footprint, harvests rain water and treats 100% of the effluents. It makes optimum utilisation of solar energy.
As the PlantBottle is partially made from plants, it reduces the dependence on non-renewable resources.
According to the life-cycle analysis conducted by the Imperial College of London, 30% the plant-based PlantBottle can reduce carbon emissions by 25% in comparison with the conventional PET plastic bottles.
It can be recycled and reused any number of times.
Contractors involved in production
Protech Khutele was contracted in September 2009 to carry out bulk earth works at the plant site.
WBHO Construction was selected as the main construction contractor in January 2010. The contract for structural steel works was awarded to Van Driel's Steel.
Coca-Cola's future plans
Coca-Cola is carrying out research and development activities in association with its partners such as universities in order to extract sugar from plant based wastes for the production of the PlantBottle.
The company also plans to make use of other natural resources such as fruit skins, barks and stems in future to produce plant-based PET for PlantBottle.
Marketing commentary
Coca-Cola is the world's first company to launch a beverage bottle made of recyclable plastic. With a vision for zero waste, the company opened the world's largest plastic bottle-to-bottle recycling plant in Spantanburg in early 2009 to produce around 100 million pounds of recycled PET plastic a year.
In an effort to move a step ahead, Coca-Cola has also engaged its resources to create 100% recyclable plastic beverage bottle.