Sections of the bottle filler are unpacked before being installed.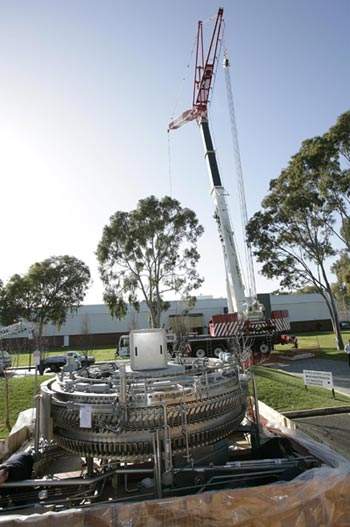 The bottle filler installed at Coopers has an easily accessible and hygienically designed stainless steel frame.
The bottle filler being installed at Coopers Brewery.
Coopers Brewery, based in Regency Park, Adelaide, Australia and one of the world's market leaders in the beverage industry, installed a new bottle filler in August 2005 as part of its A$7m expansion programme. The expansion was initiated in December 2004 and was completed by the end of 2005, it was intended to meet the growing demand for Coopers beers across Australia and overseas; the old filling line could not match the required production, so it was replaced at a cost of A$3.6m.
Coopers celebrated 10th anniversary of its Regency Park brewery in November 2011. The brewery was formally opened in November 2001 by Rob Kerin, the 43rd Premier of South Australia. Construction cost of the brewery was A$40m. Current capacity of the brewery is 90 million litres a year.
Automatic cleaning and bottle filling machine
Coopers imported the new bottle filler from Germany's KHS Till, a major provider of kegging technology the world over. The new KHS Transomat 5/1 Duo keg filler with direct flow control has replaced a single lane KHS Transomatic 4/2 filler. The newly developed Transomat 5/1 Duo has capacity up to 160 keg/hr, fully automatic cleaning and filling machine. Each lane is fitted with three active cleaning stations, one caustic soaking station, one filling station, control box and keg retainers.
The machine consists of an easily accessible and hygienically designed stainless steel frame. Most importantly, the automatic filling line requires only minimal operator intervention.
An ABB robot, programmed to unload empty kegs and place them onto the conveyor leading to the cleaner and filler, was also added. The robot lifts the filled 50l kegs from the line and stacks them on pallets for easy movement around the warehouse.
A special automatic capping device designed within Coopers places a plastic cap on each filled keg before it is removed from the line. The changes enable the keg line to be operated remotely and overseen by lager cellar operators via the site-wide SCADA system as well as closed-circuit television.
Scada system allows for real-time analysis
SCADA was developed by Camms, to deliver real-time production performance analysis through Internet-based software to the Coopers teams managing the production process. Its powerful data analysis capabilities provide management with immediate performance variation analysis to ensure their production processes are tuned to provide efficient production and the highest levels of product quality.
This replaces manual analysis systems and provides a single, consolidated view of production performance with superior data accuracy and integrity. The automation also reduced staffing levels from the earlier two to one.
Increasing bottling capacity
The previous bottling machine had a maximum capacity of 840 bottles per minute (bpm), and this was moved to Regency Park from the old brewery at Leabrook. The new bottle filler has a maximum capacity of 160 kegs/hr, more than double the capacity of the old line of 60 kegs/hr. Initially, it run at 120 kegs/hr due to limitations of a pre-washer, but this has still enabled Coopers to reduce keg filling operations from two shifts per day to one.
Expansions and upgrades
In the ten years that the brewery has been functioning, Coopers has invested A$80m on the expansion and upgrade of the plant , as well as the equipment. Some innovative additions include water and energy capture, use of a natural gas-fired cogeneration plant and use of saline groundwater instead of mains water.
In March 2007 Coopers started work on a A$10.5m programme to boost capacity at its brewery in Adelaide.
Two 15t fermenters (each worth A$1m) were installed in August 2007, increasing the total number to 20.
Each fermenter holds approximately 170,000l of beer, the equivalent of around 18,000 cartons. A new labeller, supplied by KHS of Germany, was commissioned to boost the speed of the bottling line from around 1,000 bottles a minute to 1,200.
Warehouse expansion started in May 2007 and involved extending it approximately 51m towards South Road. The project added 7,000m² of storage space and involved moving some car park spaces and landscaping the site.
In 2007, Coopers purchased 8,500 new beer kegs from a Belgian manufacturer to increase its keg count to 100,000.
In 2008, the company introduced a new bottle and purchased a new palletiser, new can filler , as well as two new industrial robots. In August 2011, the brewery was installed with a second mash tun to increase the brewing capacity by up to 50%.