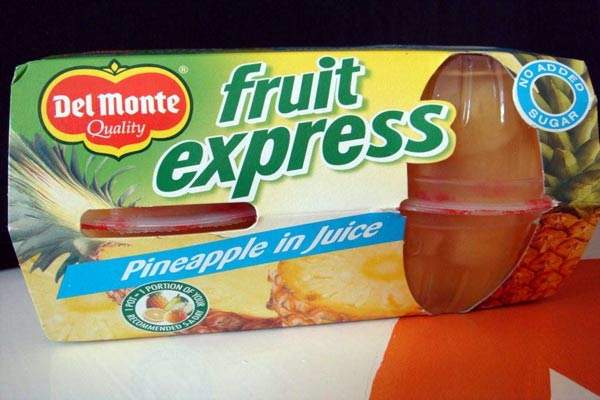 The Del Monte Food Company is a name synonymous with quality preserved fruit, although the company cans a whole range of foods, including vegetables and meat products.
The company has been processing and canning fruit in California under the brand name Del Monte since around 1916 and the company was started even before that.
The canning format of packaging for fruit has stood the test of time and of course is still used today. However with new packaging formats coming into vogue the company has looked to providing new products in a shelf-stable easy-to-eat format (single-serve plastic cups), with single servings providing convenient healthy 'fresh fruit' option for a child's lunch box and also providing an opportunity to recycle the packaging.
"The Del Monte Food Company is a name synonymous with quality preserved fruit."
New packaging
The new packaging format adopted at Del Monte's Modesto, California plant is the retortable plastic fruit cup (first introduced in 2005). The system fills and seals the 4oz cups (700 a minute, which is three times the rate of other lines at the plant) and then transfers them to a batch retort system where they are sterilised prior to being compiled and secondary packed in a cardboard sleeve with bright graphics.
The Modesto plant in California was used previously for processing tomatoes but in 1999 was changed over to fruit processing (peaches, apricots, grapes, cherries). The plant packages in all the popular formats including, canning, in glass jars and now of course the retortable plastic cup.
The plant is one of the largest in the US with over 500,000ft² of production area and also a distribution warehouse of one million square feet. The facility has a production output of over 30 million cases of product a year and in the fruit-picking season employs 1,800 personnel.
Del Monte's new packaging project
Del Monte identified several packaging equipment suppliers who would be able to help them set up their required system but in 2005 they chose the Waldner fill and seal machine to be the heart of the operation. Waldner is represented in the US by Packaging Technologies and Inspection LLC (PTI).
Other equipment was also provided by companies that had PTI as a partner including: LAN (cup handling system), Steriflow (batch retorting system). The cups themselves were provided by Printpack, the lid material by Curwood Inc and the coding station inkjet printers by Videojet Technologies Inc. The whole system was integrated with a control system provided by Rockwell Automation.
Equipment installed
PTI were central to the project and provided a high-speed turnkey system that was fully automated including: filling and sealing, retort sterilising, and then package handling for coding and secondary packing.
The system included a Waldner Dosomat in-line 20.24 two index by 12-lane cup filling and sealing system (24 cups a cycle), two Steriflow batch retort sterilisers (21,888 cup capacity) and also an LAN cup-handling system (transports and loads / unloads the retort system).
"Del Monte has been processing and canning fruit in California since 1916."
The cups are placed on the machine manually and are then filled using four filling stations – minor fruit filler, major fruit filler, liquid filler (syrup or juice) and liquid fill-to-level (syrup or juice) – using 24 station hoppers and a vibratory feeder (different shaped fruits require additional technology (oscillating rods) to make sure they are placed in the pots efficiently and gently).
The pot receives 3oz of fruit and 1oz of juice or syrup. The cups are then gas flushed and sealed with a heat-sealing film using a one-stamp heat-beaded profile sealer. The cups are trimmed out and the waste lid film discarded. The plastic cups are transferred to trays and then stacked and when sufficient cups have accumulated (six stacks of 19 trays, each with 3,648 cups) they go to be retorted.
The LAN retort chambers (5ft diameter) have the capacity to handle 40,000 cups a cycle but in this case process 21,888 at a time at a temperature of 221°F using a water cascade system. The filled cups are then cooled and transferred to be sleeve wrapped.
The new system has increased output from the facility so that they can turn out 60% more cases of product a day. In addition the packaging system is now being extended to be used for other Del Monte fruit lines aside from just the fruit pieces and fruit cocktail lines such as the fruit chillers frozen fruit sorbet range.