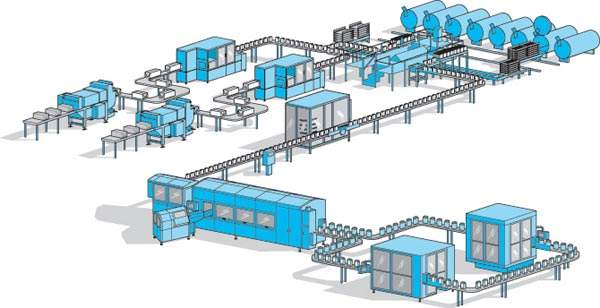 A schematic diagram of the Tetra Recart line and how it works.

How to open Recart cartons using the perforations provided.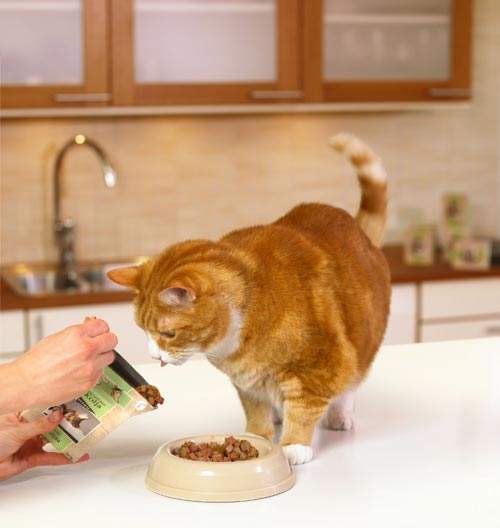 Cats love Doggy AB's Mjau.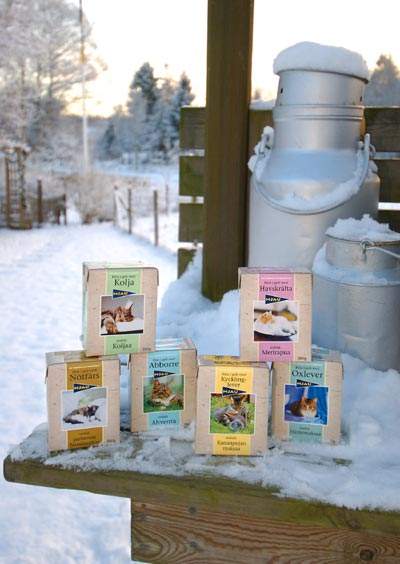 The six new Mjau products from Doggy AB.
Doggy AB, one of Sweden's biggest pet food manufacturers, and Tetra Pak launched a new packaging concept for wet cat food in April 2005. The series of six products were released under the brand name 'Mjau'. Doggy AB high-quality cat food is on offer to pet owners in a smart new Tetra Recart package.
Recart, an alternative to canned foods packaging, facilitates convenient distribution and merchandising. It is lighter and easier to stack than cans or glass jars. Marketers can make use of the carton for advertising, by promoting product updates and new product launches. The carton is also a low-resource package and is 100% recyclable.
Packaging appeal
Doggy AB and Tetra Pak have been collaborating over a period of time to introduce the Tetra Recart package to the Swedish market. Consumer tests conducted by the company reveal that innovative packaging is a big draw for consumers. Consumers also appreciate environmentally-safe packaging solutions, and Doggy AB's quality and environmental concerns have been an important contributing factor in its export success.
The Tetra Recart packaging material complies with Food and Drug Administration (FDA) and United States Department of Agriculture (USDA) standards. The innovative packaging is based on renewable resources and can be recycled in the same way as other cartons. It is convenient, safe, efficient, competitive and innovative.
"The cartons are less expensive than cans and provide a wider scope for better graphic and marketing opportunities."
Doggy AB also wanted to leverage retail and distribution benefits inherent in the new packaging design. It takes up less room (a 30% to 40% saving of shelf place), is easy to handle and large number of the cartons can be densely packed for transport. One pallet contains 35,000 Tetra Recart cartons, so one truck delivering Tetra Recart cartons is approximately equal to 15 trucks delivering cans or glass jars.
From the manufacturers point of view, the cartons are less expensive than cans and provide a wider scope for better graphic and marketing opportunities. The consumer appeal is in the fact that the cartons are lightweight, easy-to-use and carry home and do not require either tin can openers or scissors.
Tetra Pak has supplied a well-equipped filling and production line
Tetra Pak, a part of Tetra Laval Group, has developed the filling and production line equipment to cover a range of activities from loading blanks into the form and seal machine to package shaping, filling, sealing and transportation to the retort racks in one process. From the rack handling system, packages are automatically transported to one of the retorts where the packages are sterilised. The retort time and temperature depends on the fill product.
Machinery and capacity
The Tetra Pak R1 line (Recart) equipment comprises of a form-and-seal machine, loading and unloading rack system, retorts and distribution equipment. The R1 form-and-seal machine sets up the carton blanks, seals the top and, once the carton is full, it seals the bottom and forms the package.
"The Recart line runs at speeds up to 24,000 packages per hour, which is efficient for a carton-based packaging system."
The R1 incorporates retorting technology and provides an alternative packaging solution for a variety of food products that have traditionally been packed in cans or glass jars including fruits, vegetables and pet food.
The production capacity of Tetra Recart is similar to that of modern canning lines. The special packaging material and new forming-and-sealing technology makes it possible to sterilise the food inside the carton package.
The line also includes a six-layer laminate structure and offers manufacturers a novel packaging option for prepared foods such as vegetables, soups, ready meals, fruit, pasta meals, soups, sauces, salsas and pet food.
The Recart line runs at speeds up to 24,000 packages per hour, which is efficient for a carton-based packaging system.
The benefits arising from the installation
The new packaging enables Doggy AB to offer a lightweight package to consumers that's easy to carry, use, store and dispose of. The pet food company is leveraging the fact that the retail and distribution lines can be used to an optimum as the cartons take up minimal storage and display space. The new packaging also makes the product visually appealing and has high visibility.
Each pallet can carry approximately 60% more of the Recart cartons as compared to round packages, creating savings on distribution, storage and handling costs. Doggy AB's Tetra Recart lines are capable of matching standard canning lines in terms of production capacity and efficiency.