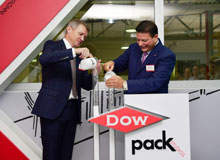 Dow Chemical's Packaging and Specialty Plastics (P&SP) division officially opened a new state-of-the-art Pack Studio centre in Singapore, in August 2016. The new facility is the company's second Pack Studio in the Asia Pacific region after Pack Studio Shanghai, China, and is the sixth studio across the globe.
Established on Dow's strong legacy of material science, the new studio, through its global network of laboratories, technical experts and testing equipment, inspires faster development of innovative packaging projects.
It will enable customers to deliver faster and more efficient commercialisation of new and improved packaging by enabling a collaborative innovation process, says the company.
Through the new Studio, Dow also intends to achieve cost reduction and reduced cycle time on fabrication, prototyping and testing during new packaging development.
Location of Pack Studious
To reinforce its commitment to Singapore, Dow has developed the new facility in its Singapore Development Center campus. The facility is strategically located to accelerate the packaging value chain in Southeast Asia.
Singapore, being a leading trade and business hub for the region, enables the company for greater innovation and collaboration while allowing its customers and shareholders across the value chain to continue enhance their competitive advantage.
Further, the increasing consumer class in Asia Pacific indicates greater potential for packaging growth, which will be capitalised by the new facility. It will address ongoing packaging trends, meet local customer requirements, and help its customers to bring new packaging applications to the market faster.
Facilities and features of Pack Studios
Similar to the other Dow Studios around the world, Pack Studios Singapore is also equipped with a wide range of facilities to enable collaboration and innovation.
It houses a collaboration room for solution-based thinking, and laboratory facilities with tools for packaging material development, film fabrication and testing equipment to validate packaging applications.
Also featured are state-of-the-art predictive modelling of flexible packaging, virtual rendering / visualisation of new pouch designs and shapes, rapid prototyping of stand up pouches (SUP), and a number of production-class cast film and lamination lines.
Further, the facility is equipped with multiple blow film, hooder and wrap lines, vertical and horizontal sealer lines, and collaboration rooms equipped with information and cutting-edge technologies.
"The studio enables customers and value chain collaborators to work on-site with the company's dedicated technical teams."
The studio enables customers and value chain collaborators to work on-site with the company's dedicated technical teams and its network of industry experts in packaging application, materials and design. They can also gain access to modelling and prototyping technologies to develop high-performing new products in a fast-paced environment.
Dow's existing Pack Studios
Dow's Pack Studios is a global network of packaging experts, equipment and testing capabilities aimed at accelerating the collaborative development of better packaging.
Dow owns and operates five Pack Studios across the globe in São Paulo, Brazil, Mozzate, Italy, Shanghai, China, Horgen, Switzerland, and Freeport, Texas, US.
Through Pack Studios, it brings together customers and stakeholders in the value chain including equipment manufacturers, package designers, brand owners, prototyping specialists, resins and adhesives experts, enabling faster development and commercialisation of new and improved packaging.