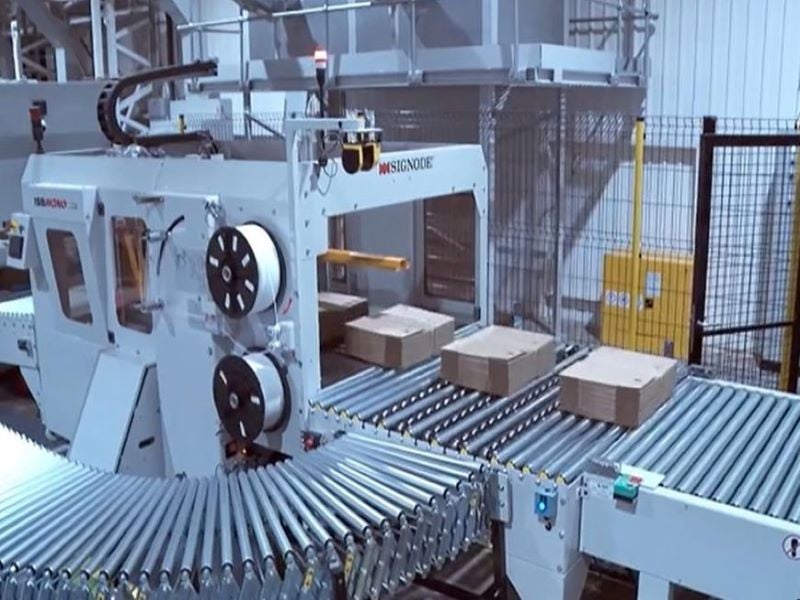 DS Smith North America Packaging and Paper has expanded its presence in North America by opening a new manufacturing facility in Lebanon, Indiana, US.
The groundbreaking ceremony was held in January 2019 and the plant was opened in January 2020. Built with an estimated investment of $100m, the plant will allow DS Smith to meet the growing demand for sustainable boxes.
The new packaging facility is capable of handling high-volume orders and delivering them with short lead times.
DS Smith packaging facility location
DS Smith's new packaging facility is located within the Lebanon Business Park on 800 Edwards Drive. The plant is situated off the I-65 Interstate Highway, approximately 60km from Indianapolis International Airport.
This location offers railroad access and connectivity to dual interstate exchanges. The plant will provide corrugated boxes to customers through DS Smith's distribution network located across Nashville, Chicago, Cincinnati, St Louis and Columbus.
DS Smith Lebanon packaging facility details
The DS Smith packaging facility covers an area of 550,000ft² and includes a rolled paper warehouse with a floor slab, a two-storey 22,500ft² corporate office, and below-slab utility tunnels and trenches. It also includes a client product design centre and is equipped with advanced, fully automated equipment and machinery.
The corrugated packaging plant has the capability to produce approximately 30,000 boxes per hour.
The facility's lightweight recyclable packaging production capacity has a combined area of more than 17 million square feet a day and two billion square feet a year.
DS Smith also incorporated an underground scrap conveyor system that will significantly reduce the noise and dust generated at the plant. The Lebanon plant is further equipped with advanced e-commerce technologies.
Project benefits
The new plant has been built to serve the packaging needs of US customers and those located in other countries worldwide. The corrugated plant is specialised in supplying fit-to-product packaging and recyclable boxes to customers.
The packaging model will ensure sustainable packaging while also helping brands reduce waste and the costs associated with shipping products to consumers.
More than 170 new jobs are expected to be created at the facility in different roles across machinery, sales, engineering, production and management.
Sustainability
The boxes produced in the Lebanon facility will feature lightweight materials and use 30% to 40% less fibre when compared to the traditional boxes available in the US.
"The corrugated packaging plant has the capability to produce approximately 30,000 boxes per hour."
DS Smith is focused on incorporating end-to-end supply chain solutions and ensuring responsible use of materials in the manufacturing of its products.
The new facility will contribute to the company's goal of manufacturing fully recyclable and reusable packaging products by 2025. The firm is employing sustainable design practices at the site.
Certified by the British Retail Consortium (BRC), the facility employs DS Smith's performance assurance consistency environment (PACE) technology to design efficient, customised solutions for customers. In addition, the Lebanon plant features a PackRight Centre, which is the company's offering to help customers increase sales and reduce costs.
DS Smith product portfolio
The product portfolio of DS Smith includes transit and transport packaging, retail and shelf-ready packaging, e-commerce solutions, industrial packaging, and point-of-sale and point-of-purchase displays. DS Smith also supplies packaging machinery and provides consulting services related to creative design and supply chain audit.
In addition, DS Smith offers print solutions to customers across multiple sectors and provides recyclable corrugated pallets and converters.
Contractors involved in DS Smith Lebanon manufacturing plant
DS Smith completed the project in collaboration with real estate firm CBRE's project management group.
Ruark & Wyatt Architects, a US-based architecture firm, was awarded a contract by CBRE to work on the project.
Marketing Commentary on DS Smith
DS Smith is an international packaging company with headquarters in London, UK. Founded in 1940, the company has grown through investment and a series of acquisitions to boost its presence in Europe.
Some of the earliest acquisitions of the company included Corrugated Products and Waddington & Duval in the 1980s and Kaysersberg Packaging, Spicers, and John Dickinson in the 1990s. More recently, the company also acquired Interstate Resources, Corrugated Container Corporation and The Display Connection.
DS Smith, an FTSE 100 member, is involved in the production of corrugated packaging. The company also has recycling and papermaking operations to support its core business.
With operations in around 37 countries worldwide, the firm focuses on creating sustainable and innovative packaging solutions. The company has a workforce of approximately 30,000.
Furthermore, the firm opened its new headquarters in Atlanta, Georgia, US, as part of its expansion plans in North America. Meanwhile, DS Smith has partnered with Ellen MacArthur Foundation to contribute to the creation of a circular economy.