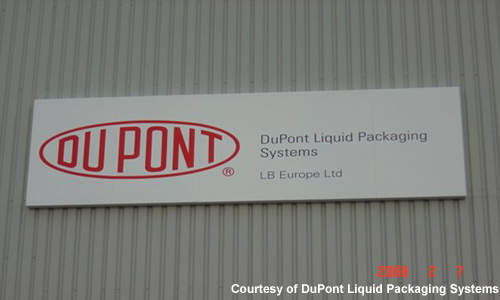 DuPont is consolidating its liquid packaging operation under one roof for increased efficiency, moving to an integrated facility in Wythenshawe, UK.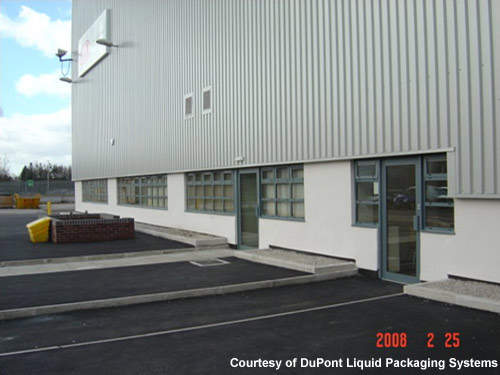 The new Wythenshawe facility is producing DuPont's innovative bag-in-box packaging solutions.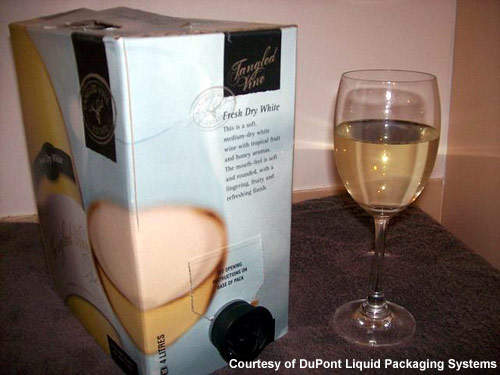 Bag-in-box technology offers a capacity ranging from 3l to 1,000l, and the dispensing systems are simple, flexible, hygienic and inexpensive.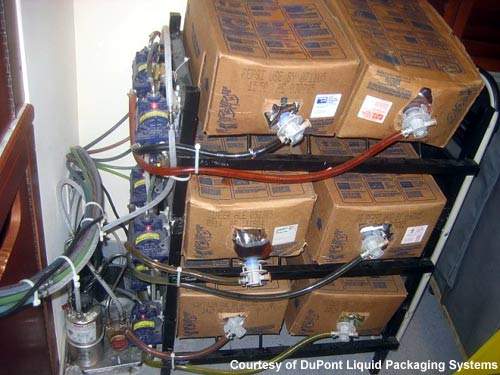 Many bulk liquid producers now use DuPont's bag-in-box system since transport is a lot cheaper and the containers are easier to recycle.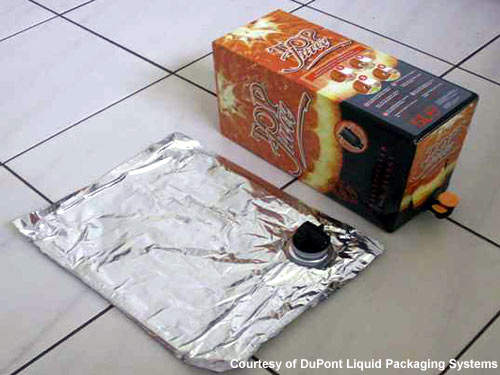 The bladder bag part of the packaging can be made of a variety of different materials according to the application.
With packaging being constantly named as one of the big culprits in wasteful modern society, a change is afoot in liquid packaging. More and more companies are now choosing to package bulk and even consumer volume liquids using bag-in-box technology. The bag capacity can range from 3l to 1,000l at the top end of the range and the dispensing systems are simple, flexible, hygienic and inexpensive.
Manufacturers in areas ranging from beverages to edible oils, liquid foods and chemicals are beginning to find that bag-in-box gives them more control over production and supply chain processes. A variety of materials can be used for the bag: from laminated metallised oxygen barrier films to medium, high and low-density polyethylene to nylon. In fact, a bag can be tailored for the majority of liquid applications.
In addition, the system is suitable for both aseptic and non-aseptic filling technologies and transportation costs will be less because the containers weigh a lot less than other suitable containers, using only a fraction of the material.
Bag-in-box is cheaper per unit of liquid and gives an inexpensive, reliable liquid container system that can be easily split into two components for recycling: cardboard outer case and the plastic bag inner bladder. Bag-in-box was, in April 2008, one of seven winners in the DuPont Awards selected for sustainable achievements in packaging innovation.
New facility
In February 2008 DuPont Liquid Packaging Systems (LB Europe) opened a new facility in Wythenshawe, Manchester in the UK to produce premade bags for bag-in-box applications. The new facility will produce flexible bags for a growing customer base in Europe, the Middle East and Africa (EMEA).
Susanne Burgdorf, site manager at the new DuPont facility, commented at the opening: "The move to Wythenshawe gave the business an opportunity to look at the entire bag manufacturing process. Working with lean consultants the facility was designed with a 'lean manufacturing' layout, streamlining the manufacturing methods to maximise value and minimise waste in the value add process…We streamlined the entire bag-making process from the point where the resin arrives at the plant through to the finished product on the dock."
Two sites
The business was previously operated from two sites. Now that the 120 personnel have been moved under one roof there has been a maximisation of the efficiency of the organisation, manufacturing, inventory management and space utilisation. In March 2008 the final phase of the move was made to Wythenshawe, with injection-moulding equipment being transferred from the old facility.
Stewart Graves, global marketing and sales director for DuPont, commented: "Wine and beverage liquid packaging systems are our key markets within the European region but as we intensify our marketing efforts we anticipate growth in both the food and dairy markets that will contribute to sustainable growth of the liquid packaging business…The new Wythenshawe facility enables us to supply our existing customers effectively while positioning the business to meet the growing demands in the EMEA market."
"The new technology provides an alternative to previous rigid bottle systems that can typically cost 40% more per litre, are more expensive and are subject to contamination."
Filling
The DuPont bag-in-box pouches can be used for hot or cold fill, pasteurised, shelf-stable or extended shelf-life products in the dairy, beverage, food, water and wine industries. Water bag-in-box can provide enormous benefits by providing a new cheaper packaging approach that can improve access to clean drinking water.
The new technology provides an alternative to previous rigid bottle systems that can typically cost 40% more per litre, are more expensive and energy intensive to produce, and are much more subject to contamination. Over and above the responsibly sourced materials, the outer corrugated cardboard packaging is 100% recyclable and the lightweight inner liner may be recycled into other plastic components and is also suitable for energy recovery.
Applications
Mini-Sip™ (aseptic pouch 100ml to 5l) and Starasept™ (bulk aseptic) are the two major bag-in-box brands for DuPont. For carbonated beverage syrups the Starasept system can provide bags in nylon or metallised barrier construction and in volumes from 3l to 1,000l.
Similar systems can be used for liquid processed foods and dairy products (ice cream, shake and frozen yogurt) giving shelf lives of over three months. For edible oils bag-in-box can be custom produced with a barrier film to exclude oxygen; the oxidative products in oils give rancid flavours.