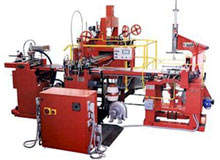 Paul T. Freund Corporation launched its folding carton business Freund Carton in 1999 in Palmyra, New York state, USA. Long-established in the rigid box market, Paul T. Freund realized it was losing business by not offering folding cartons, since about half their existing clients bought folding cartons elsewhere. Many customers needed both sorts of product for specific projects.
The synergy from launching the folding carton site has driven the pace of change at the rigid box operation and both are finding new business in a time when many manufacturers are experiencing flat markets. The folding carton operation has been running at, or very close to, capacity; its Bobst SPO diecutter and its five-color litho press from Komori are running three shifts. Also, demand at the rigid box operation continues to grow, which is why new technology is required.
EQUIPMENT SUPPLIERS
Paul T. Freund's rigid box business bought eight new Emmeci box makers the same year Freund Carton was launched. Alongside them run nine Stokes & Smith H lines, five Stokes & Smith B lines and one Stokes & Smith D line. The company also purchased a Prism guillotine cutter, two Potdevin gluers, a ValueLine diecutter, a TLFGraphics label printer and a Parry H wrapper.
The Stokes & Smith D line box maker in fully automatic or semi-automatic form comes with standard equipment, which includes an automated sheet gluer, a suction conveyor belt, a recirculating glue system, an automated wrapping machine, a thermoplastic quad stayer for stayed boxes and an automated flange bender for unstayed boxes. The Smith & Stokes B and H line specifications allow for either automated or semi-automated operation. In terms of performance, the model B line is capable of handling larger score line dimensions than the model H. Both offer 35 cycles per minute in both forms. In automated form, the model B weighs in at 5,500kg, the model H at 5,275kg. The semi-automatic versions weigh 4,710kg and 4,480kg, respectively.
More recently, Paul T. Freund's rigid box business acquired two more Stokes & Smith B lines, a rebuilt Parry D line, another Prism guillotine cutter, three ValueLine diecutters and two Kluge EHD hot stampers. It has also bought two reconditioned MD Knowlton double scorers, one reconditioned Knowlton single scorer, one QA 100 Quad, two rebuilt Parry Style B mitring machines, two further Potdevin gluers, two rebuilt Stokes & Smith H wrappers, two Kraft platters, one new C&S vinyl lid machine and three Shanklin shrink tunnels.
Also, the rigid box operation recently invested in two new Emmeci box makers, MC92 and MC94, to meet the continuously rising demand. It is also seeking to purchase three additional custom-manufactured loose-wrap lines.
The folding carton operation added a Post straight-line folder gluer to its line in 2002.
PLANNING AN INTEGRATED PACKAGING COMPANY
Rick Frederick, formerly operations manager at Freund Carton, became president of the parent company Paul T. Freund in 2001. The folding carton business is located in a new 35,000ft² building, which was designed to be expandable. It currently hosts diecutting, printing, gluing, hot stamping and laminating, as well as design, prepress, sheet laminating, warehousing and distribution.
The last few years have seen considerable change as the two formerly separate businesses have been brought closer together. Frederick and CEO Paul Freund Jr aim to integrate the formerly separate folding carton and rigid box cultures to make one seamless packaging company.
PAUL T. FREUND
Paul T. Freund is one of the top ten rigid box manufacturers in the USA. It specializes in just-in-time delivery, with a household-name customer base especially strong in confectionery, retail and cosmetics. In 2002, the company's revenue grew by 20% to reach more than $12 million.
The company's intention is to invest both in machinery and in workforce knowledge of that machinery. Every employee, even those in customer services, is trained on the machinery. The company wants to maintain its double-digit growth to support its capability to constantly reinvest.