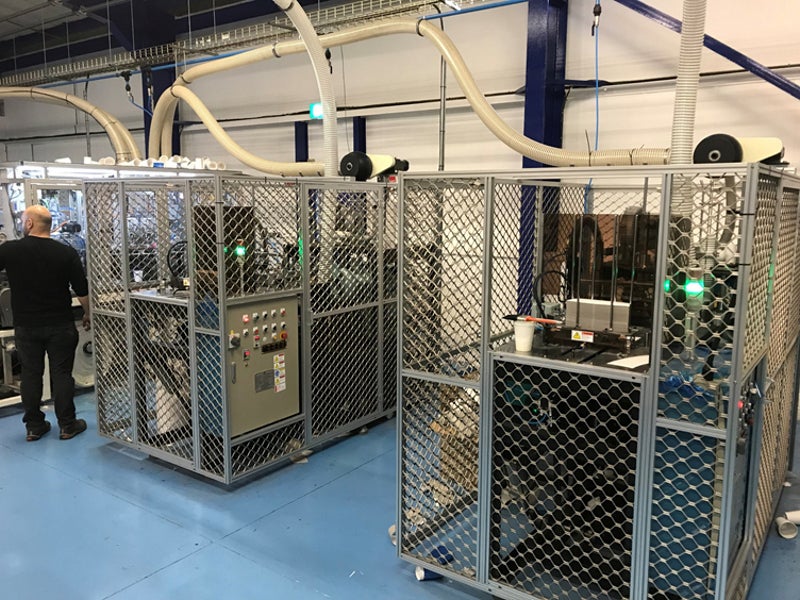 Frugalpac opened a manufacturing facility in Wrexham, North Wales, UK, in February 2019 for manufacturing its Frugal Cup coffee cup.
The factory will help meet the demand for the company's Frugal Cup disposable coffee cups in the UK. The Frugal Cup is an environment-friendly solution to address coffee cup waste in the country, where approximately 2.5 billion coffee cups a year are used and thrown away.
The number of coffee shops in the country is forecast to increase to approximately 30,000 by 2025, due to the growing consumer demand for coffee. Frugalpac's environment-friendly coffee cups are expected to increase paper cup recovery and recycling rates in the UK.
Developed with a seven-figure investment, the new plant is expected to create employment for 20 locals for managing the production of the cups.
Frugalpac's coffee cup manufacturing facility location
The Frugal Cup coffee cup manufacturing plant is located within an 18,000ft² manufacturing site operated by Cup Folk in Wrexham. The site was selected due to its round-the-clock operation and 250 million cup capacity.
The site also offers additional space for the future expansion of the manufacturing facility. It will enable Frugalpac's engineering team and product designers to better manage the quality of Frugal Cups made at the factory.
Frugalpac's Frugal Cup manufacturing facility details
Frugalpac's Frugal cup manufacturing facility is installed with three production lines, which are equipped with 21 production machines.
"The Frugal Cup is an environment-friendly solution to address coffee cup waste in the country, where approximately 2.5 billion coffee cups a year are used and thrown away."
The plant produces a range of Frugal Cup recyclable coffee cups in three sizes, namely 8oz, 12oz, and 16oz. The 8oz and 12oz cups are offered in boxes of 500 each, whereas the 16oz cups are available in boxes of 400.
The cups are available in four Frugalpac-branded colours of blue, colourful dotty swirls, kraft brown and white, and are also provided in bespoke designs through an in-house printing process.
The cups made at the factory are sold to coffee shops and cafes across the UK as an alternative to non-recyclable disposable coffee cups, which are made from plastic-coated virgin paperboard using waterproofing chemicals.
Frugal Cup advantages
The outer part of the Frugal Cup coffee cup is made from recycled paper. A food-grade PE liner, which can be separated easily in any standard recycling process, is placed inside the cup.
The cups are created to eliminate paper cup waste and can be disposed of in any recycling bin at home, on the street, in the coffee shop, or office.
Both the paperboard and PE liner can be recycled through separate mainstream waste processes within eight minutes, while the conventional paper coffee cups are not easily recyclable.
Marketing commentary on Frugalpac
Headquartered in Suffolk, UK, Frugalpac is a packaging company that manufactures fully recyclable paperboard coffee cups, easy-to-recycle paperboard bottles, and recyclable beverage cartons with a waterproof foil bag inside.
Frugal Cup, the first product of Frugalpac, was unveiled in July 2016, while the Frugal Carton product was launched in October 2017.
The carbon footprint of the cup was tested by quality assurance specialist Intertek using SimaPro 8.1 and Ecoinvent 3.1 software in August 2016. It was concluded that the cup has a carbon footprint of 24.6g of CO2 when recycled, compared to a conventional coffee cup, which has 39.4g of CO2 footprint.