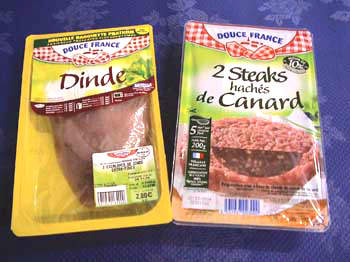 Gastronome have a modern packaging solution with a reliable shelf-life.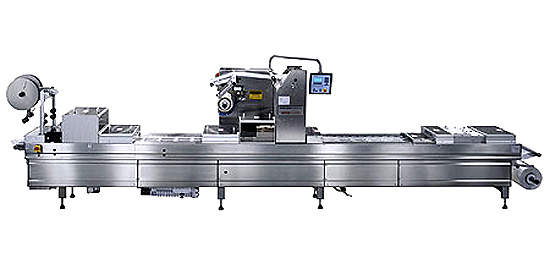 Sealed Air's R272 CD model that implements the DDD technology.
In March 2005, Gastronome, the second largest poultry processor in France, in collaboration with packaging specialist Sealed Air Cryovac, launched the Darfresh Double Deck microwaveable concept. The modern and novel packaging is adapted to the needsof consumers and retailers. The poultry processor is involved in all aspects of the poultry business in order to create high-quality and innovative products.
The poultry market in Europe, and France in particular, is very competitive with limited margins. To ensure shelf space and a leading presence in the market, Gastronome has had to focus on strong branding for their products and develop and introduce products with a high level of added value. Innovative products new food packaging technology and value-added products (in this case, cooked poultry) have contributed to Gastronome's growth as a major poultry player.
Sealed Air Cryovac packaging
Value-added products, including breaded or cooked poultry cuts and ground poultry burgers, need to be packaged for instant consumer appeal and must also have a reliable shelf-life. In order to achieve these ends, Gastronome decided to invest in modern, innovative packaging from Sealed Air Cryovac.
After assessing the needs and aims of the poultry processor Gastronome, Cryovac developed the Darfresh Double Deck microwaveable concept for the poultry processor. The food packaging solution addresses the needs of producer, consumers and large retail stores. The Darfresh vacuum food packaging ensures long shelf-life, eliminates drips and allows vertical presentation on the retail shelves.
Darfresh Double Deck microwaveable vacuum packaging
"DDD has the advantages of the transparent Darfresh vacuum packaging and a printable lid film."
Cryovac claims that the Darfresh Double Deck (DDD) microwaveable concept is revolutionary. In addition to having a longer shelf life, DDD has the advantages of the transparent Darfresh vacuum packaging (a skin film protecting the product while eliminating drip) and a printable lid film, with an optional window which can be used for advertising. The package is easy-to-open as the consumer can open both the films at the same time.
The new food package has a faster turnover time enabling the poultry processor to easily manage inventory and orders at the retail end. This, in turn, helps food systems producers avoid stocking shortages of the product at the point of sale.
Gastronome is leveraging the microwavability of Darfresh packaging, and is exploring possibilities of marketing other meat products. The company plans to develop its line of fresh poultry cuts and introduce marinated products to be cooked in the microwave.
Market trends
The demand for pre-packaged, easy-to-cook meals is one of the fastest growing trends in Europe. A consumer survey reveals that a third of European consumers are single and spend about $172.3m per year on utilities – food, drinks, cosmetics, and personal care products. This trend has led Gastronome to expand into the microwaveable packaging sector of the food industry.
Suppliers
Sealed Air offers a wide range of packaging materials and systems for protection, presentation and fresh food packaging and is distributed under the Cryovac brand. The materials used are shrink film and bag products, non-shrink laminate products and packaging equipment systems.
Packaging medium capacity output
"Cryovac's R272 CD and R570 CD Darfresh® packaging machines are dedicated to the unique Cryovac Darfresh process."
Cryovac's R272 CD and R570 CD Darfresh® packaging machines are specifically designed and dedicated to the unique Cryovac Darfresh process. The R272 CD is a solution for packaging medium capacity output in a variety of pack sizes. This fully automatic machine is equipped with special Darfresh forming and sealing dies. The machine can also be specified for "double deck" applications.
The modular concept allows 50 programmes to be precisely adapted to specific products and production equipment as well as additional units and ancillary equipment. The stainless steel construction is both hygienic and easy to maintain. The R570 CD is designed for high capacity requirements and large pack sizes – up to 18 packs and 15 cycles per minute.
Gastronome protection, transparency and advertising
Gastronome's new food packaging initiative is beneficial as it allows for longer shelf-life for the product, offers the combined benefits of protection, transparency and advertising. Since the package prevents drip loss, the package can be presented vertically. The DDD technology makes the self-service poultry shelves at the retail outlets more appealing and gives the poultry processor better brand visibility.
It's convenient for consumers as it provides useful product information and is easy to use. The advertising space on the lid provides space for colourful graphics and consumer information.
Gastronome plans to progressively replace the traditional stretch over-wrap trays with Darfresh Double Deck for all their poultry products. Although the new packaging solution is about 10% more expensive, DDD is the innovative solution for displaying and packaging food.