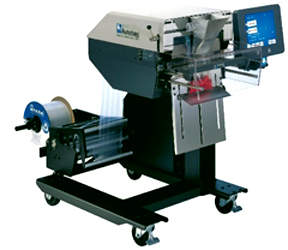 Automated Packaging Systems is the manufacturer of the original Autobag® packaging machine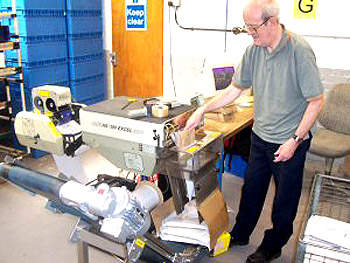 The machine is easy-to-use and has a quick turn-around time
Hiretech, a UK-based company with divisions in the US and Australia, is a manufacturer of disk and drum floor sanders, steam wallpaper strippers and consumables for these products such as abrasive strips and sanding discs. In 2005 the company upgraded their operations at their Watford plant with automated packaging equipment to help save time and money. The supplier, Automated Packaging Systems (APS) of Malvern in the UK, is the only manufacturer of the original Autobag® pre-opened bags-on-a-roll packaging machinery.
Hiretech's packaging operations were basic and in need of an upgrade. The process was entirely manual and involved placing the product in the poly tube, sealing, labelling and finally packaging. The company recognised a need to automate its packaging and labelling procedures and improve productivity through automation. This influenced their choice of cost-effective solution providers. Ron Putta, Manufacturing manager of Hiretech, commented: "Our system was not very 21st century, at times a bit crude and in desperate need of review… We were looking for someone who had technologically advanced products, which could dramatically improve our packaging operation at the same time as being competitively priced… Automated Packaging's equipment fulfilled all requirements."
Since the upgrade with Autobag in June 2005, the company has reported a 90% increase in productivity and a 60% reduction in labour costs, with a significant decrease in the start-to-finish process time.
"Print-n-pack" system
Hiretech chose to install the Excel series of APS equipment including the machine fitted with a load support shelf and a precision in-line printer, to form a complete 'print-n-pack' system. The Excel/Precision system is capable of packing five times faster than a manual operation.
Hiretech uses bags that are clear on one side – for a view of the product – and white on the other side, so that information including barcodes and graphics can be printed directly on it. The packing machine can accommodate different bag sizes – ranging from 3in × 5in (75mm × 130mm) to 9in × 13.5in (230mm × 350mm) and even up to 10.4in × 22in (265mm × 550mm) for the bags with white fronts and clear backs, to bags with butterfly holes and Euroslots that allow greater flexibility.
Hiretech's packaging operations were basic at best. The packaging operator places the product manually into the poly tubing which is then heat sealed. Hiretech's production office would print adhesive labels and issue them to the shop floor staff who would label the bags and pack the product.
The company's packer would take 45 seconds to pack, seal and label one single bag by hand but now the APS equipment allows the same person to accomplish the task in 2 seconds. A batch of 1,000 bags that used to take 12 hours can now be completed within an hour. Sometimes temporary staff would have to be brought in to clear a backlog of orders but that is now a thing of the past.
Ron Putta commented: "We can now clear any bulk orders in less than a day. The pickers locating products from storage often can't keep up with the machine! We can now bag 100 parts in less time than it takes to find the items, count them out into a kit and deliver them to the bagger."
In addition as the machine is able to count the product and the stock delivered is more accurate there are less wastage and giveaway problems and the in line printer means a much more presentable package with more comprehensive information/instructions printed on it.
High-resolution thermal transfer imprinters
The APS bagging machines for Hiretech are simple to use, dependable, and operationally flexible. The high-resolution thermal transfer imprinters are designed for problem-free integration with the Autobag® bagging systems to form the complete 'print-n-pack' operation.
APS' Autolabel Designer 7.0 can design and print labels with ease whether it is printing bar codes, text, graphic images, or from databases. It supports over 30 bar code symbols, TrueType fonts, and over 850 thermal and laser printers, providing the flexibility to handle all of the labelling applications. The in-feed and take-away conveyors are designed to increase packaging productivity by eliminating additional processes and reducing labour requirements.
Reducing production time and reducing costs
The APS Excel/Precision high productivity packaging system has reduced Hiretech's production time-line. The installation also reduces costs by eliminating the need for a separate labelling process – it is incorporated in the bagging process. The company used to store large stocks to overcome the disadvantage of its own lead-time, but the installation of the Autobag system has completely revolutionised Hiretech's functioning and stock can be ordered in a more efficient manner.
The company's lead-time has been reduced to ten days from four weeks, enabling it to meet outstanding orders quickly and improve customer perception. Because of the improvement and higher standard of service being offered, Hiretech is able to execute large orders and orders with a demanding timeframe without delays or backlogs. Jobs/orders placed are issued to the shop floor the product is picked and then packed immediately and product data is held on a PC system next to the packaging equipment.
Hiretech's decision to automate and hire APS to install Autobag has had an impact on the company's production quality, client perception, and professionalism of their employees. It has also more flexible, quicker at change-overs and better at meeting demanding deadlines for orders.