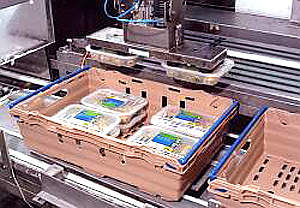 Hitchen Foods has automated the line packing process at its Wigan facility with a pick-and-place case packer.
Hitchen Foods has automated its line packing process to improve production efficiency. With a capacity to prepare over 100,000 meals every day, Hitchen supplies vegetables and salads to retailers and the foodservice sector.
The company has installed the Ishida Flexible Packaging System (FPS) pick-and-place case packer at its Wigan factory to improve production efficiency. The work on automation began in the last quarter of 2004 with an estimated investment of more than $2.5 million and the first phase of the project was completed by the end of the year.
NEW FOOD LAWS
Among other reasons for automation, the regulation 178/2002/EC on General Food Law, which came into force from 1 January 2005, requires food and drink manufacturers to trace products "one step up and one step down". For complete security, manufacturers want to be able to trace their products right through the supply chain.
The regulation, intended to help check growing threats of bioterrorism besides health concerns, requires the establishment, maintenance and retention of certain records. It covers domestic and imported food and animal feeds that are regulated by the FDA. The general food law requirements are traceability of food and feed products, responsibility of operators, withdrawal of unsafe food or feed from the market and notification to competent authorities.
The factory already had a number of high-speed processing and packing lines. However, while the line dedicated to ready-prepared potatoes was able to operate at 45 packs per minute, packing the filled trays into euro crates was physically impossible at this speed. Before the installation of the Ishida Flexible Packaging System, two workers were doing this and there was no space for more people at the end of the line.
The only solution was to automate the end-of-line packing process. Several companies have already set up automatic weighing and packing of processed dry and frozen products. More and more companies are taking initiatives toward increased volumes, faster throughput, increased flexibility, shorter lead times, maximum efficiency and high quality standards.
PROGRAMMABLE, MULTI-AXIS PICK-AND-PLACE CASE PACKER
Ishida Europe is a leading supplier of weighing and packaging solutions. Ishida developed the FPS which is a programmable, multi-axis pick-and-place case packer. Suitable for many food and non-food applications, the case packer enables the complete automation of end-of-line packing. The FPS packs primary packs such as bags, trays or cartons into secondary transit packs and euro crates.
VACUUM PICK-UP HEAD HANDLES EIGHT DIFFERENT TRAY TYPES
The FPS features an agile, multi-axis pick-and-place arm with a vacuum pick-up head that picks up two trays at a time and transfers them into a case or euro crate. The flexibility of the system means that it was initially able to handle eight different tray shapes and sizes, including both round and rectangular versions.
In consultation with Hitchen Foods, Ishida also developed a special system to enable layer cards to be inserted into the milk crates as required by some retailers.
Now the packing requirements have been simplified to two tray sizes, producing a wide variety of packs for different retailers, packed into full and half size euro crates. Half-size milk crates are presented broad edge leading, enabling two of them to be filled simultaneously.
Individual requirements for each pack are programmed into the FPS's Remote Control Unit, so that product changeovers can be carried out at the touch of a button. Ishida Europe also installed a gated infeed conveyor to present the euro crates and a take-away roller track conveyor.
The Ishida FPS pick-and-place packer features a multi-axis pick-and-place arm with a selection of pick-and-place heads that can be specified to handle different tray and pack types. The system optimises packing line efficiency and typically saves two manual packers per shift.
The case packing process also incorporates constant weight checking to reject incomplete cases and crates, while data from the weigh-price-labeller is used to label the filled crates and cases as they exit the FPS for effective quality control.
BENEFITS INCLUDE AN OPTIONAL UNIQUE CASE WEIGHT VERIFIER
Ishida FPS operates at a high speed and delivers up to 120 packs per minute. The machine is compact and is designed to maintain hygiene. Its operation, cleaning and maintenance are simple. The machine has stacking, shingling and other collation options and it can be integrated with upstream packing modules. It is able to handle a wide variety of packs with an optional unique case weight verification system. It also has webcam capability for total line analysis and control. Packing consistency is enhanced and importantly, labour costs are considerably reduced.