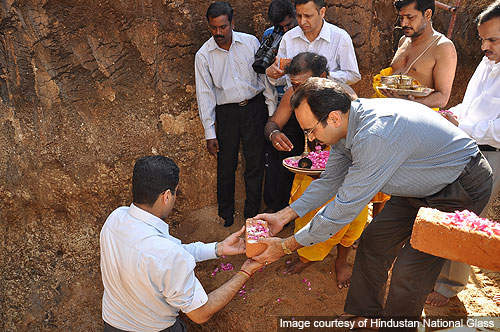 The groundbreaking ceremony of the Naidupeta glass manufacturing complex.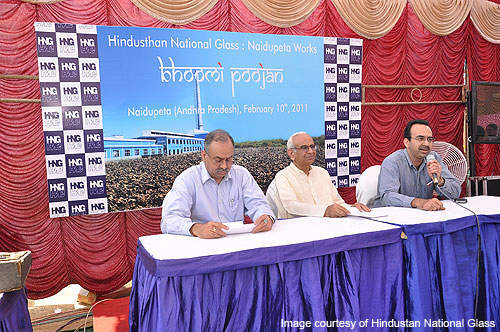 Founder C K Somany (centre) at a press meeting during the groundbreaking ceremony.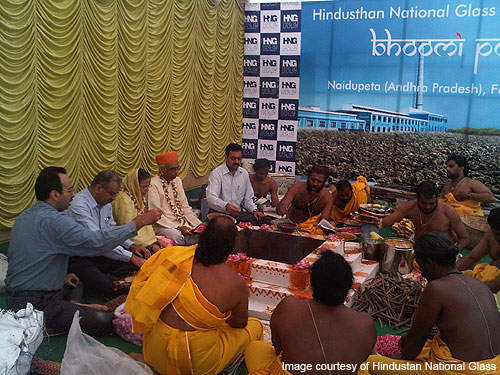 Bhoomi Pujan (prayers) are held at the site of the complex.
Hindustan National Glass (HNG), the largest manufacturer of glass containers in India, is setting up a new manufacturing complex at Naidupeta, a town in the state of Andhra Pradesh.
The complex will have five furnaces, three for glass containers and two for float glass. Estimated to cost INR400m ($8.8m), the project is being developed in phases and is expected to be completed by 2018.
Construction of Phase I commenced in February 2011 with an initial investment of INR70m. It is expected to be completed by the year end and commence production in the first quarter of 2012.
The Naidupeta facility will be the largest glass manufacturing complex in South East Asia, with a production capacity of 3,500 million tons of glass a day. It is a part of an aggressive growth plan to double the company's existing capacity in three years through greenfield and brownfield expansions, and an investment of about INR25bn (approximately $550m).
The greenfield project is a strategically planned move to create presence in southern India while catering to the region's growing glass demand. At the same time, the complex will be in close proximity to the ports of Ennore and Krishnapatnam, facilitating imports and exports. In addition to the local market, the facility will serve US, Europe, Middle East and South East Asia.
Installed equipment
The facility will be spread across 210 acres and will house the world's largest batch house and container glass end-port fired furnace, which will measure 175m². It will also feature the largest furnace in India with a capacity of 650 million tons of glass a day.
Technology
With a strong focus on growth through technological investments, HNG has earmarked an investment of INR25m to bring in the best technology at the Naidupeta facility.
The plant will be equipped with two state-of the-art Bureau of Indian Standards machines, which is a new concept in glass making. The plant will also be fitted with speed-function technologies, including the FlexRadar infrared process analyser, plunger process control and temperature control systems.
The furnace will be equipped with the latest narrow neck press bottle technology for the production of light weight glass containers.
Contractors
HNG has signed several contracts with eminent international firms to bring in the latest technology for the Naidupeta project.
Germany-based Zippe and Horn have been contracted to supply the batch house and the furnace respectively.
The Bureau of Indian Standards machines, major equipment and control parts will be delivered by late 2011 by Emhart glass, a division of Bucher Industries. Ernst Pennekamp, a leading glass melting and annealing technology provider in Germany, has been contracted to provide the annealing lehrs.
HNG has also signed a collaborative agreement with Siemens to work on the technology innovations. The project is being supervised by Chennai-based engineering and architecture firm CRN.
Benefits
The project will contribute to the economic development of the region by creating employment opportunities for more than 2,000 people. It will also provide housing for 600 families within the 15 acre industrial campus.
The Naidupeta complex will be a flagship project in India in terms of eco-friendly technologies that will be used in the plant. The facility will use 40-50% of recycled glass as a raw material and will use waste heat from the exhaust flue gas to generate 1.5MW of captive power.
Clean fuels such as natural gas, LPG and CNG will also be used in the production process. Rainwater harvesting techniques and a sewage treatment plant will be deployed to treat and reuse waste water.
The southern Indian glass market
Demand for glass in Southern and Western regions of India accounts for about 65% of national demand. According to industry analysts, this demand may increase at a rate of 10-12%, owing to the growing awareness of factors such as health and hygiene, and eco-friendly products.
The state of Andhra Pradesh has the highest per capita consumption of beer, liquor and soft drinks compared to any of India's other southern states. According to an independent survey conducted in 2009-10 the five southern states collectively consume about 139.5 million cases of Indian-made foreign liquor and 70 million cases of beer a year, of which Andhra Pradesh accounts for 41.25 million cases of Indian-made foreign liquor and 24.99 million cases of beer.