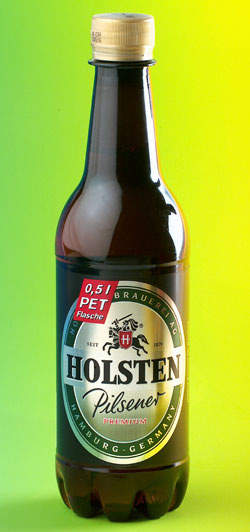 Holsten beer bottle made of PET.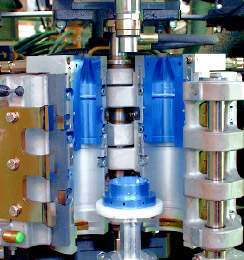 The open mould carrier of the Contiform S24 stretch blow-moulding machine.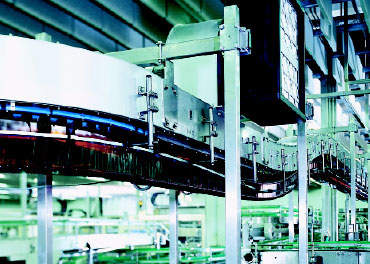 Krones AirCo air conveyor.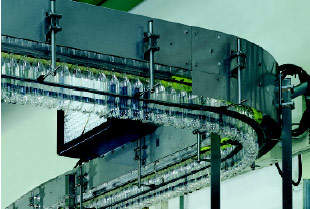 The bottles are then taken by air conveyors to the PET filler.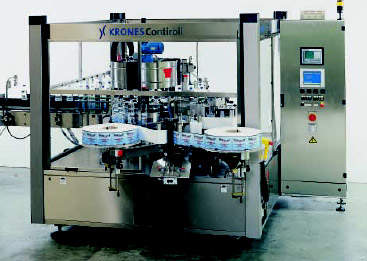 Krones Contiroll reel-fed labelling machine.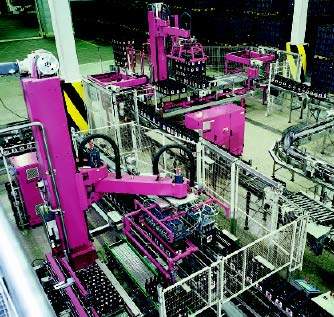 Kettner Robot 3A packing and palletising machine.
Holsten-Brauerei AG has introduced a dedicated PET line for beer and beer-based mixed drinks. It is the first company to make a substantial investment in a new packaging material for its beer and beer-based products. The new line produces 36,000 0.5-litre non-refillable multiplayer barrier PET bottles per hour, which corresponds to an annual capacity of 500,000hl. It operates at full capacity three shifts daily.
The PET line is based at the Feldschlösschen brewery's bottling plant in Brunswick, Germany, and is the result of a €7 million ($8.6 million) investment. The line became fully operational in August 2003. Holsten initially only fills and markets the 0.5-litre bottles, but other capacities may become possible depending upon market demand.
CONTIFORM S24 STRETCH BLOW-MOULDING MACHINE
The major supplier for the entire line was the Krones Group AG of Neutraubling, Germany. A Contiform S24 stretch blow-moulding machine makes the bottles in an in-line fashion. This machine produces 24 bottles per cycle. The bottles are then taken by air conveyors to the PET filler, a Mecafill VKP-PET.
At the next stage, the labelling is carried out by a Contiroll labeller using reel/belt-fed wrap-around labels for the bottles. Finally, the filled and labelled bottles are packed in shrink-wrapped trays using a Variopac machine, before being stacked on pallets for transportation to customers using a swivelling arm robot stacker with three movement axes (Kettner model 3A). This stacker is capable of 500 cycles per hour with a maximum lift capacity of 500kg. The last station in the highly automated line is a Krones stretch wrapper.
PETALOID BOTTLE DESIGN
The design of the bottle was taken as something of a challenge by both Holsten and Krones. It was essential to retain a traditional shape and amber colouration, but an equally important requirement was to introduce stability and pressure resistance. The final design retains a traditional beer bottle shape, which is important for customer acceptance. The base of the bottle has been given a petaloid shape with eight grooves with the base retaining some of the champagne bottle characteristics used in other beer bottle designs. The concept design was carried out by a team from Holsten, with fine-tuning of the final design carried out by Krones.
AMCOR BIND-OX TECHNOLOGY
Amcor PET Packaging is the main supplier of the brown 28g preforms used by Holsten. The three-layer preforms have inner and outer layers of PET and are produced at Amcor's Brecht, Belgium, facility. The centre layer is a nylon compound that includes Amcor's Bind-Ox multilayer active barrier technology. The Bind-Ox technology is active in the sense that it not merely impedes oxygen penetration, but in fact traps oxygen and binds it into the bottle wall. Bericap supplies injection-moulded oxygen-scavenging 38mm closures of polypropylene.
RECYCLABLE ALTERNATIVE TO GLASS CONTAINERS
Holsten intends to offer the PET bottle at the same price level as other volume-comparable convenience beer containers. Marketing statistics and research feedback have led Holsten to conclude that the PET bottle will achieve acceptance among any consumer age group.
Beer is a very important component of German society and consumers may meet change with some suspicion. However, these types of PET bottle are not entirely alien as they have served the soft drinks industry well for many years. The PET bottle is 100% recyclable and safer to dispose of than similar glass containers. PET has excellent characteristics for drinks bottles as it is light, stable, taste-neutral and transparent (though it can easily take colour, such as amber).