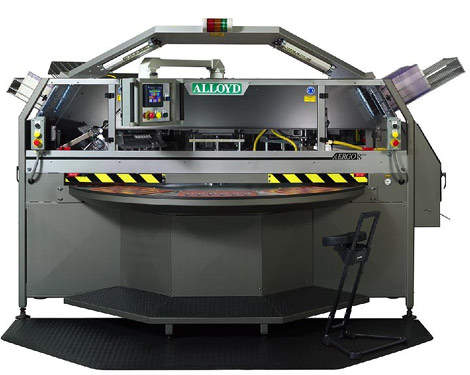 Alloyd AERGO 8 DUO machine installed at IJR.
The Phoenix-based inkjet cartridges re-manufacturer, IJR Inc., introduced an Alloyd AERGO 8 DUO blister packaging system in January 2005. The new automated blister packaging system has been designed to reduce theft losses of inkjet cartridges at the supplier's major customers, namely retail stores, offices, club stores etc.
Previously, the small and lightweight inkjet cartridge packs were convenient for shipping but were prone to theft. The price tag of $35.00 and above also makes the cartridge a likely target for theft.
The Electronic Article Surveillance (EAS) tags available to avert theft are not foolproof as removing the inkjet cartridge from its chipboard carton can deactivate them. Another option is to keep cartons in a closed area and rely on store employees to dispense them, but this adds to labour costs and also hampers opportunities for impulse purchases.
Owing to retailer pressure, IJR had to change inkjet cartridge packaging. During the latter part of 2004, the company started the process and in January 2005, a new automated blister packaging system was set up. The new blister packaging is designed to deal with cartridge retailers' theft concerns.
In automated packaging system, inkjet cartridges are packaged in plastic-to-plastic blister packaging, which is too large to be pocketed and impossible to open in-store. A transparent blister also allows viewing of the inkjet cartridge inside, a common consumer preference, and the enclosed paperboard card carries an EAS tag for additional security.
INNOVATION WAS A NECESSITY
Traditionally, inkjet cartridges are packaged in chipboard cartons with hang tags for easy display. Because of its low weight and small size, the cartridge package is convenient for the shipper and the retailer, but this is equally convenient for shoplifters to pocket. SCA Packaging developed the Alloyd AERGO 8 DUO blister packaging machine for IJR cartridges.
SCA – LEADING SUPPLIERS OF CUSTOM-DESIGNED AND AUTOMATED BLISTER PACKAGING
IJR assigned the job to SCA Packaging, Consumer Products Division, North America's leading supplier of custom-designed blister packaging and automated blister packaging equipment and they introduced Alloyd AERGO 8 DUO blister packaging machine for cartridges. The new packaging system comes as an effective solution to IJR's needs and it is cost effective, too.
ALLOYD AERGO 8 DUO BLISTER PACKAGING MACHINE USES CUSTOM-FORMED BLISTERS
The new blister packaging system, an Alloyd AERGO 8 DUO blister packaging machine, automatically places a custom-formed bottom blister into tooling designed specifically to hold its shape. Blister material used by SCA Packaging to form both top and bottom parts is polyvinyl chloride supplied by Klöckner Pentaplast.
CAPACITY CAN BE VARIED ACCORDING TO PRODUCT REQUIREMENTS
The capacity of the new machine is up to 20 cycles per minute. It delivers 20 blister packages of inkjet cartridges when sealing one up and higher multiples when filling and sealing two or more blisters at a time. The process can be slowed to four blisters per minute to accommodate blisters holding different products that require more time for placement.
Generally, the dimensions for a twin black inkjet cartridge IJR blister pack are larger that necessary, at 8in by 7in by 2in. This means the packs are too big for shoplifters' pockets, which can reduce theft.
Office products customers ask for dual- and single-cartridge sizes. However, club stores usually require packages of larger quantities of inkjet cartridges in each economy package, and thus it requires multiple packaging – blisters within blisters.
TECHNICAL INFORMATION
The AERGO 8 runs the blister material through three product-loading stations where operators manually place inkjet cartridges. Then it proceeds to a station where a printed card is placed onto the blister, followed by another station where the blister top is placed. The package is heat-sealed at the seventh station, and the blister package is ejected finally at the eighth station which is a finish press that extracts heat from the sealed package to prevent warping, brittleness, or discoloration, ready for case packing.
The Alloyd AERGO 8 DUO provides two options – it can fill and seal either blister-to-blister or blister-to-card packages. Currently, IJR is using only the blister-to-blister capability for its cartridges.
COMFORT COMBINED WITH PRODUCTIVITY
The machines in the SCA AERGO lines are designed to provide comfort for the operator as well as to increase productivity. The comfortable design features include a 36in high turntable, where operators can either sit or stand while filling cartridges manually. Also, the turntable edge is padded and there is a footrest covered with non-skid matting.
IJR says that the Alloyd AERGO 8 DUO is performing well since its installation in January 2005 and that it suits its requirements.