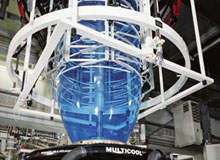 In 2005, ISO Poly Films of Gray Court in the US, underwent a major expansion with a total investment of $25m. The first phase of the expansion project included installation of a co-extrusion film line, bringing the facility's total of film lines to six. This first phase was completed at a cost of $3m.
The second phase included the construction of a 50,000ft2 building to house two seven-layer co-extrusion lines to produce specialty films for the food and medical markets, at a cost of $2m. This was completed by October 2005. It included 20,000ft2 of additional warehouse space with an innovative, automated storage system and 2,800ft2 of new office space.
The major part of the expansion was completed by early 2006. This third phase included the investment of $20m to produce a new packaging facility unique to the film industry.
The facility started operations in the first quarter of 2006. The environmentally controlled 30,000ft2 building houses 11 highly advanced film coextrusion and barrier lines that use the latest technology to produce specialty multi-layer films for food and medical use. These can be up into seven layer barrier films incorporating such combinations of material as nylon, split nylon with ethylene vinyl alcohol (EVOH) and EVOH with polyethylene and polypropylene.
In all, the expansion programme added 80,000ft2 to the existing 50,000ft2 facility which already had the latest in precision film extrusion equipment – from high-end mono-layer extrusion lines to high barrier film systems. The expansion included 50,000ft2 of warehouse space plus 30,000ft2 for production. ISO Poly Films was recertified under the ISO 9001:2000 standard on 16th June 2007.
ISO Poly Films, founded in 1998, sold its majority ownership to Sigma Plastics Group and became a part of the group in February 2009. Sigma Plastics Group is the second largest flexible packaging producer in North American.
Three-layer blown film extrusion line
In 2006, ISO Poly Films purchased a three-layer blown film extrusion line, Varex System, from Windmoeller & Hoelscher Corp. (W&H) of Lincoln, Rhode Island. The new Varex system was the plant's sixth film line. The company also purchased the 7-layer VAREX system from Windmoeller & Hoelscher Corp. featuring the new FILMATIC Tx dual-turret winder.
In November 2010, the company purchased a fourth blown film extrusion line from W&H. This brought the total number of film lines to 11. The new line, which is for three-layer coextrusion production, is expected to increase the company's yearly film output to 100 million lb.
Automatic film gauge control, internal bubble cooling, gravemetric dosing control
The VAREX Blown Film Line is a modular blown film system for monolayer and coextrusion, including barrier films. The modular construction principle allowed the Varex system to be perfectly tailored to specific requirements and to be expanded to cover the ever-growing spectrum of applications. Modules such as the OPTIFIL P2 automatic film gauge control system, the internal bubble cooling, the oscillating W&H haul-off with horizontal turning bars, gravimetric dosing control, etc. are important elements of the W&H blown film system.
The integration of the PROCONTROL system, which has also been used in other W&H lines, and the customer-oriented OPTIFIL PLUS automation module, made it a reliable system.
The MULTICOOL D double-deck air-ring, developed from W&H's modular air-ring system, uses a three-stage cooling process. Depending upon product specifications, production output is significantly increased as compared with previous air ring systems. With the introduction of the first automatic OPTIFIL film thickness gauge control, W&H achieved a quantum leap forward in the area of innovative blown film extrusion.
As a result of a specifically targeted melting temperature before the melt exits the die gap, OPTIFIL P2 ensures minimum thickness tolerances and guarantees constancy of film quality. This leads to high efficiency, resulting in optimum and consistent converting characteristics of the film as well as drastic reductions in raw material use.
With MULTICONE, W&H has developed a modular, price-effective die concept with internal bubble cooling for smaller line widths for the production of coextruded and barrier films up to seven layers. This innovative die is constructed from conical disks, which are stacked centrally. The innovative design causes greater torsion strength, which in turn leads to a very positive distribution of the individual film layers.
The FILMATIC Tx dual-turret winder, which was the first sold in North America, can produce rolls up to 47in in diameter, has adhesive-free web transfer on changeover and offers centre, gap and reverse winding capabilities. The winder was installed in a face-to-face configuration. The facility can now produce sheets of film ranging from 2in to 130in layflat width. It can accommodate a wide variety of customer needs, including single wound sheet – 6in to 130in; center fold sheeting (A or B wind) – 26in to 125in; J-sheet (A or B wind) – 26in to 125in; roll OD – 10in to 42in; core sizes – 3in and 6in. It has the ability to provide gauge ranges from 0.5ml to 28ml and capability for gauge control of ±5% or better.