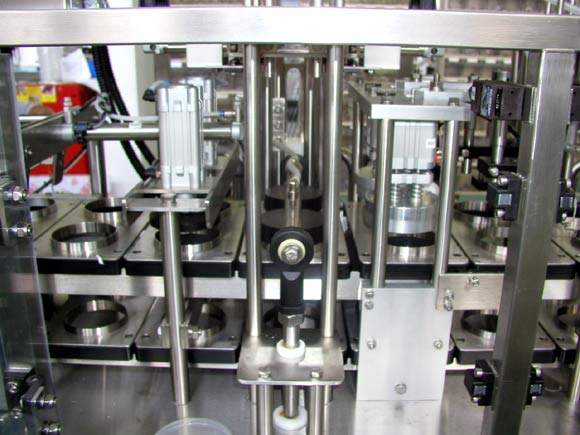 In September 2005, Josephine la Gourmet Pty Ltd, an Australia-based food company providing dips to retail markets, installed a PXG tub filling and sealing machine supplied by JL Lennard Pty Ltd.
The dip company has been focussing on improving its products as well as its packaging since 2003. With an annual growth rate of 37%, Josephine was facing increased demand for its product beyond existing production capacities.
Josephine packs its products in dual sizes, 200g and 150g, necessitating fast changeovers of products as well as tubs. Additionally, the food company realised that an easy to clean, simple to operate filling and sealing machine would improve efficiency in packing, generating higher throughput and providing competitive advantage.
Keeping these factors in mind, Josephine planned to expand its production capacity with a compact, versatile and adaptable machine and found the PXG filling and sealing machine to meet its requirements.
CONTRACTOR AND CAPACITY
The PXG filling machine, designed by Packline Ltd, now packs Josephine's range of dips at a rate of 25 to 100 cups per minute and provides flexibility in cup sizes up to a maximum diameter of 117mm.
MACHINERY FEATURES AND SPECIFICATIONS
The PXG machine consists of 12 stations, cup feeding and ejecting devices, lid feeding and sealing, provision for two filling stations and a PLC control system.
With integrated electronic control systems, Josephine can make adjustments in the filling system. The PXG machine can fill with a variety of moist products at varying consistencies making it suitable for the range of dip products produced by Josephine. In addition, they can use the checkweigher incorporated in the filling system to identify faulty tubs.
The automatic filling, sealing and overcapping functions of the PXG machine reduce the labour required for production. Josephine has leveraged on the adaptability of the machine by installing an additional filler that enables them to pack two flavours in each tub and provide a layered product.
The company is also able to handle a wide range of products using the four-lane machine. The use of removable conveyer plates results in fast product changeovers and provides a distinctive advantage over conveyer belts.
Hygiene requirements are met through stainless steel construction and the use of food-grade materials for the parts of the machine that come into contact with the product.
Before the final product is ejected, the PXG machine provides heat-sealing, code printing and pick and place tasks for plastic overcaps. The integrated MAP system in the PXG machine enables Josephine to control oxygen levels to 0.1% to 0.3%. Additionally they have the option of using pre-cut lids or roll-stock membranes for sealing the products.
BENEFITS
Josephine chose the PXG machine as it was cost effective and lowered maintenance costs by using pneumatic cylinders. It has also reduced labour costs, as the PXG machine requires only one operator.
Josephine manufactures a wide range of products and the PXG machine offers the versatility required for packing different shapes and sizes. The PLC screen control system has provided better operational control and access. In addition, the removable conveyer belts allow product changeovers in 15 minutes, increasing efficiency and speed in packing.