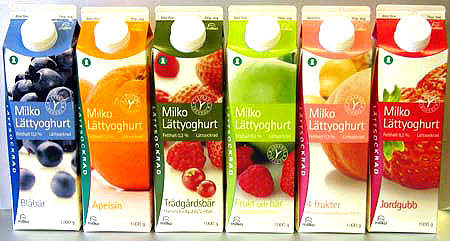 The new curved cartons from Elopak.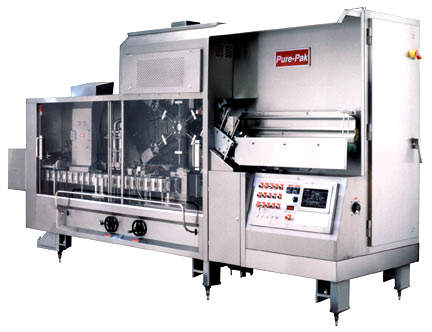 The Pure-Pak P-S50 filling machine installed at Milko's Grådö facility.
In March 2005, Elopak and Milko showcased a new innovative carton with the re-launch of the Swedish dairy's popular range of low-fat, low-sugar fruit yoghurts. Milko is the first company in the world to trial Elopak's new Standard Diamond Pure-Pak Curve carton. The project is a pilot for Elopak's most recent packaging innovation.
Milko is a co-operative company and is owned by farmers from various provinces of Sweden and the company produces a variety of dairy produces. Milko is attempting to change its public perception by innovating the packaging of its health food. The range of fruit yogurt being presented in the new, colourful cartons will appeal to a wider consumer base.
Elopak's carton packaging design and technology incorporates the technical and ergonomic design features of their award-winning Mini Diamond and Pure-Pak Curve carton but the shape is completely different. Milko is convinced that the elegant design would appeal to its health-conscious market. The dairy enterprise marketing team is impressed with the graphic, branding and slogan possibilities on the carton's fifth panel.
Food and health food manufacturers are beginning to rely on the packaging appeal of their product. In the increasingly competitive arena of the supermarket shelf, their product must reach out to their target audience. Studies have revealed that 80% of consumer decisions are made at the store shelf. Their collaboration retains the consumers' image of the reliable Pure-Pak carton, while optimising the value of the unique curved shape.
The functional benefits of the screw cap with a better grip and bigger spout also add to the appeal. For Milko, Elopak's design generates eye-catching visibility and the distinct differentiation that consumers demand from quality products.
SCREW CAP APPLICATION, HYGIENIC FILLING AND ELECTRONIC PRODUCT LEVEL ALARM
The Pure-Pak® P-S50 filling machinery, installed at Milko's Grådö facility, is the frontrunner among modern carton-filling machines. The machinery is designed to run standard A-style Pure-Pak cartons with the added feature of a screw cap applicator. It is capable of handling sensitive products, with a hygienic fill mechanism and electronic features including a product level alarm.
The compact Pure-Pak P-S50 series filling machines allow filling and drive areas to operate side by side – separated by a vertical keel. They are easy to operate and convenient to maintain. The electronics for automation and production control make the machinery a good packaging solution. The standard P-S50 is a clean filling machine that protects against airborne recontamination, including a double diaphragm fill and high-efficiency particulate air (HEPA) filtered air.
The P-S50 copes with highly sensitive food products, which translates into extended shelf-life credentials. It is good for high-quality filling of products such as pure squeezed juice, mineral water, table wines and extended shelf-life milks.
Elopak provides retrofit conversion kits for their other machines to upgrade to Pure-Pak P-S50 filling machines. They are working in partnership with customers to plan or rebuild screw-cap filler systems that are required for curve cartons. The filling machine's electronics allow it to interface with production control systems in automated sites.
MILKO'S PURE-PAK CURVE CARTON WITH A NEW SHAPE AND LARGER SCREW CAP
Milko's range of six fruit yogurts was launched in the Pure-Pak Curve carton, in the pilot scheme for Elopak's most recent carton innovation. The new carton shape and larger screw cap have been introduced in the Swedish market.
HIGH HYGIENE, EYE-CATCHING GRAPHICS AND CONSUMER APPEAL
A consumer survey demonstrates that Milko's range of fruit yogurts in the new curved packaging has had wide market acceptance. Consumers in Greece, Switzerland, Spain and the USA have found the concept both eye-catching and functional. From the manufacturers point of view, the new diamond shaped carton with a wider top panel is a good investment in terms of its eye-catching graphics and consumer appeal.
Consumers are pleased with the easy-to-use screw top, wider spouts, and high hygienic standards. The carton concept gives Milko a new edge – a stronger premium profile – for its high quality and healthy yogurt products and better visibility on theretail shelves.