Mondi Syktyvkar Pulp and Paper Mill Modernisation, Komi Republic
Mondi Group is a €5.7bn ($7.2bn) paper and packaging company with headquarters in London, UK, and Vienna, Austria.
Project type
Modernisation and expansion
Location
Ezhva, Syktyvkar, Komi Republic, Russian Federation
Modernisation and expansion started
July 2008
Expand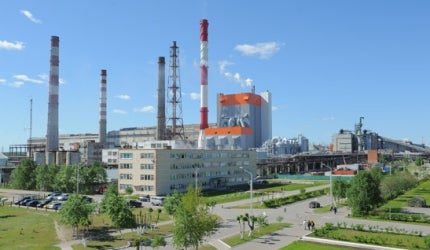 Mondi Group is a €5.7bn ($7.2bn) paper and packaging company with headquarters in London, UK, and Vienna, Austria. The company's main operations are located in central Europe, Russia and South Africa. It is mainly involved in the production of packaging paper, converted packaging products and uncoated fine paper (UFP).
Mondi's Syktyvkar integrated mill, located in Ezhva District of Syktyvkar, Komi Republic, Russian Federation, is one of the largest manufacturers of pulp and paper in Russia. It was opened in 1969 and manufactures newsprint and white top liner, with its core business being office and offset paper production.
"Mondi's Syktyvkar integrated mill is one of the largest manufacturers of pulp and paper in Russia."
The Syktyvkar pulp and paper factory includes a wood yard, a pulp mill, and power and wastewater treatment plants. Production takes place with the help of a board machine and three paper machines.
In September 2010, Mondi completed a phased expansion of its Syktyvkar factory. This massive modernisation project known as 'STEP' was implemented with a total investment of €545m ($695.6m).
Objectives of the paper factory's modernisation
The main objectives of Mondi's STEP project were to bring the factory's older equipment to the standard of best available technology (BAT), reduce the mill's dependency on natural gas, increase the use rates of paper produced from topically grown renewable resources for packaging and other uses, and secure supply for the promising Russian paper market.
Reconstruction of the paper machines, fibreline and white liquor plant
The STEP programme is the largest such project in the history of the Russian pulp and paper industry. Construction on the project commenced in July 2008.
Apart from the overall expansion and upgrade of the mill's operations, facilities and equipment, Mondi reconstructed two of the four paper mills, overhauled the fibrelines and built a lime kiln and recovery boiler.
After completion of an earlier phase in November 2008, the mill saw improvement in product quality and output of uncoated wood free paper containerboard. To meet the increased output, the mill is estimated to harvest four million cubic meters of wood per year. Fibre production is also projected to rise by one-quarter.
---
Related project
---
Mondi Group's corrugated board plant in Izmit, Turkey, is also known as Tire Kutsan Izmit. The plant was one of six plants acquired by the company from Tire Kutsan, a leading corrugated packaging company in Turkey.
---
Reconstruction of the paper machines PM14 and PM21 has resulted in the increased production of board and paper. Production capacity of PM14, which produces office paper and offset paper, has risen from 280,000t to 340,000t. PM21 is now producing 280,000t of containerboard against 215,000t earlier.
Reconstruction of the fibreline has increased the product quality as well as the quantity. All the three digesters of the fibreline were significantly improved to achieve additional production of 2,500 air-dry tons per day.
The fibreline modernisation also included installation of a pressure diffuser, two new pulp washers, erection of a blow tank, equipment for the additional stage of oxygen delignification, and installation of washing equipment for before and after oxygen delignification. Screening and unbleached washing areas were also upgraded.
Modernisation of the white liquor plant included the installation of a new lime furnace, measuring 4.5m in diameter and 105m in length, with capacity to produce up to 8,400t of burnt lime per month.
Modernisation of the pulp and paper mill
A new soda recovery boiler was built to replace the mill's three pre-existing recovery boilers. Standing 80m high, it is the largest recovery boiler in the Russian pulp and paper sector. Armed with modern equipment, electronics and hydraulics, the new boiler burns 3,560t of dry solids per day at 9.2 million pascals of pressure.
A new wood yard was added to the mill in order to handle the increased product output. It can debark and chip soft and hardwood at a rate of four million cubic meters per annum.
Benefits of the reconstruction of the Russian mill
In its efforts to bring down water consumption at the Syktyvkar factory, Mondi unveiled a new evaporation train capable of holding 560m³ of evaporated water per hour.
"A 100MW turbo-generator was also installed as part of Mondi's modernisation project."
The evaporation train is installed with two new cooling towers which allow multiple water usage. This has led to an impressive reduction of water usage per unit produced, and consequently reduced quantity of water sourced from Vychegda River by 40%.
The new lime furnace is installed with filters that can trap almost 100% of the dust produced during the burning process.
A 100MW turbo-generator was also installed as part of Mondi's modernisation project. It produces green energy from biomass.
Financiers and contractors for the mill modernisation
In December 2011, the European Investment Bank (EIB) sanctioned a €100m ($127m) loan to finance the expansion and reconstruction of the Syktyvkar integrated pulp and paper mill. This is the first time that EIB is lending a loan under the newly structured Eastern Partners Facility (EPF).
Global consulting and engineering firm Pöyry of Finland was the main engineering consultant of the project. Outokumpu was the exclusive supplier of steel piping with diameters ranging from 7mm to 1,200mm.
Installation of the HVAC system and piping was undertaken by Axis of Czech Republic.
---
Related content
---
Paper is not only the largest global packaging sector but is also behind some of the most pioneering innovations today.
Mondi introduces new process liner
Mondi Coatings & Consumer Packaging, a division of Mondi Group, has launched a new process liner for the packaging industry in order to increase output and contribute to a cleaner production environment.
Mondi Group to demerge SA unit
Paper and packaging group Mondi has announced plans to spin off its Mondi Packaging South Africa (MPSA) unit and list it under a new name on the Johannesburg Stock Exchange.
---